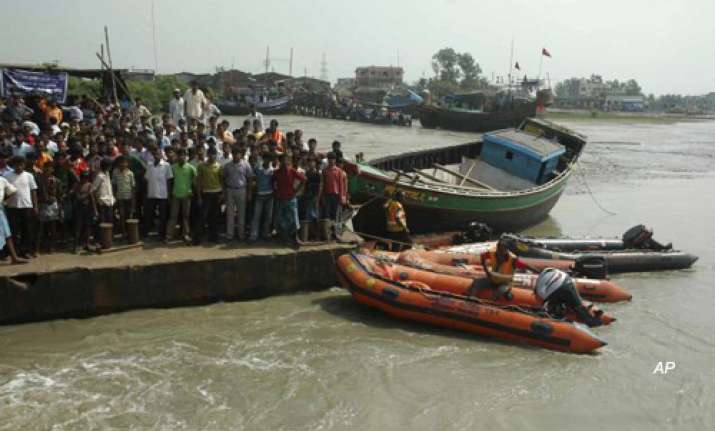 Kakdwip (WB), Nov 1: The death toll in the trawler capsize in Hooghly river shot up to 69 tonight with 28 bodies retrieved from the waters, even as search for 43 others missing was suspended for the night due to inclement weather and strong currents.
South 24 Parganas Additional District Magistrate (revenue) Nilanjan Shandilya, in-charge of the control room set up to supervise rescue operations, said seven bodies had been retrieved earlier in the day but it took time to reach here due to the bad weather.
Earlier, Sundarbans Development Minister Kanti Ganguly had said 21 bodies had been retrieved during the day.
Road blocks were put up by the relatives of the dead in the capsize to protest against the delay in postmortems. Only 12 postmortems could be carried out during the day at the Kakdwip block hospital, sources said.
The blockade hit Kolkata-Kakdwip traffic.
The situation has been compounded as the administration decided to conduct DNA tests of bodies which have more than one claimant.
South 24-Parganas district magistrate N S Nigam said that DNA tests would be conducted to sort out such disputes.
In Kolkata, state home secretary G D Gautama said that 220 people were onboard the trawler as per the missing reports submitted by gram pradhans to the administration.
A total of 93 persons were found to have either swum to safety or rescued, he said.
An FIR had been lodged against the owner of the trawler, who is absconding, Gautama said. PTI