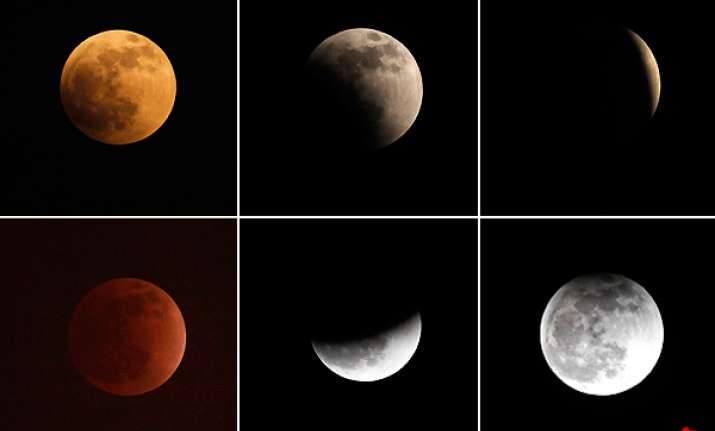 New Delhi, Dec 11: A total lunar eclipse was visible across various parts of Asia on Saturday night.

Hundreds of people gathered on the lawns of the India Gate war memorial in New Delhi to witness the celestial spectacle.

A group of amateur sky gazers had set up telescopes through which people could watch the eclipse.

People watched the celestial spectacle through telescopes set up by a group of amateur sky gazers.

School children were also present armed with their cameras to capture the phenomenon.

At the peak of the eclipse the moon turned into a faint red disc in the sky.

The total duration of the eclipse in India was nearly five hours, giving a wide window of opportunity for celestial observers.

In China, astronomy enthusiasts gathered at the Beijing planetarium to watch what was billed as the best lunar eclipse of the decade.

It was the second eclipse this year to be visible in China, and lasted for 51 minutes.

Chinese tradition often called for noisy celebrations during lunar eclipses.

Legend tells that the moon was being eaten up by a Heavenly Dog, so people had to make noise and scare it away to get the moon back.

The gathering at the planetarium was much more sedate, though a long line of people did pay 10 yuan (1.5 US dollars) to look through telescopes provided by the museum.

Some people brought their own telescopes and cameras.

Crowds stayed out late in Hong Kong to catch a glimpse of the lunar eclipse on Saturday night.

One area that's always popular for looking at Hong Kong's night skyline, along Victoria Harbour, bristled with telescopes, as enthusiasts set up to watch the moon.

The main period of total eclipse took place between 10:06pm (1406GMT) and 10:58pm (1458GMT), according to the Hong Kong Observatory.

The sky over Hong Kong was clear, and visibility was good, allowing a clear image as the earth's shadow slowly obscured the moon, leaving it darkened for nearly an hour.

The moon appeared a reddish colour when viewed through professional telescope equipment.

The last lunar eclipse that could have been visible in Hong Kong was in June this year, but on that night heavy rain and cloud made it impossible to get a good view of the event.

The lunar eclipse was also visible across other parts of China and India, as well as in Indonesia.