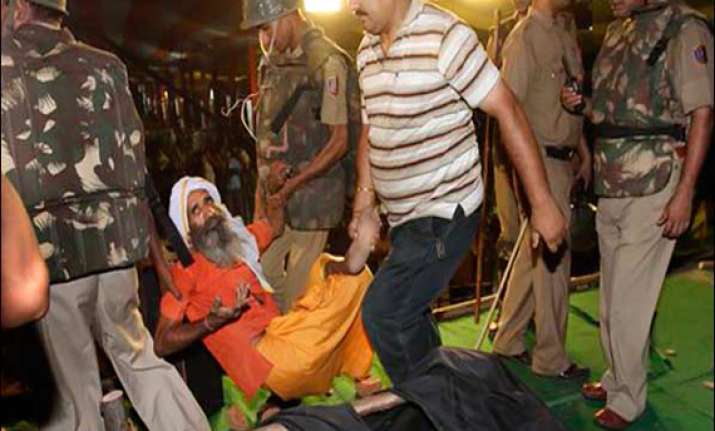 New Delhi, June 11 : Delhi Police has chargesheeted six policemen, a sub-inspector, a head constable and three constables, for using force of  Swami Ramdev's supporters at Ramlila Maidan on June 4-5 midnight last year.
Those chargesheeted include sub-inspector Sushil Kumar, head constable Vijender and three constables Tejinder, Ravi, Dinesh and Krishan Pal, all post at Kamla Market police station.
They have been charged under Sec 336 IPC, endangering life and personal safety of others. The chargesheet was filed before Delhi metropolitan magistrate Anil Kumar, after which the court while taking cognisance issued summons to all the six to present on July 7, the next date of hearing.
Delhi Police Commissioner B K Gupta and other senior officers were themselves present at Ramlila Maidan on that fateful night, and it was under their orders that the police swung into action to remove Ramdev's supporters.
The Supreme court in February had asked Delhi Police to probe the role of police officers in the incident, following which these six have been indicted.
Delhi Police told the metropolitan magistrate's court that it may file a supplementary chargensheet after the probe is concluded.
In its 1,000-page chargesheet, Delhi Police used video footage procured from at least 12 TV channels present there and statements of 36 witnesses, including some mediapersons, as evidence.
According to Times of India, the chargesheet  says, officers were individually responsible for their action.
Besides use  of teargas shells,  no order of lathicharge was given by senior officers,  the chargesheet says.
The police action at Ramlila Maidan led to the death of an aged lady, who suffered spinal paralysis, and scores of people were injured. Even women were not spread during the police action.