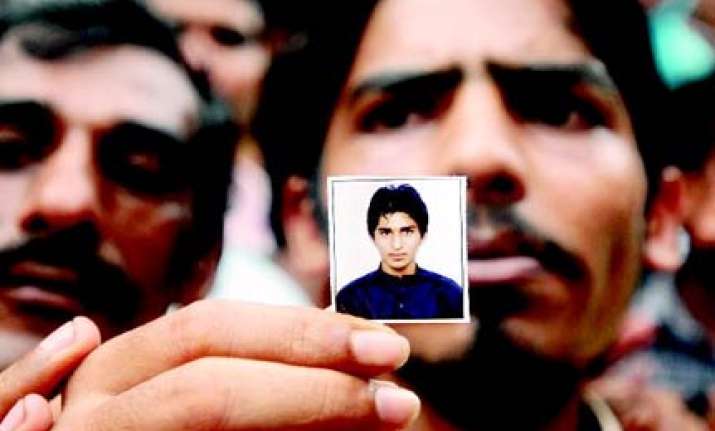 A few strands of hair stuck in the nails of deceased Nusrat Shaikh as well as traces of semen helped forensic experts nail Javed Rehman Sheikh, who is believed to have raped and murdered the nine year-old from Kurla, reports Times of India.  
The lab checked the samples three times to rule out any error in naming the culprit. A DNA expert at the Forensic Science Laboratory (FSL) in Kalina was assigned the task of scanning through at least seven DNA samples that were collected after Nusrat became the third victim to be raped and murdered in the locality.  
Earlier, the lab was already scanning the DNA profiles of 60-odd suspects whose samples were picked up after two rapes and murders at came to light Nehru Nagar in a span of the last few months.  
It was only on Tuesday that the lab found out that Javed's samples matched with those found on Nusrat's decomposed body.
"We did not want to announce the culprit's name unless we were 100% sure,'' said Dr M V Garad, director of FSL.    Former director of FSL, Dr Rukmini Krishnamurthy said that DNA profiling is considered concrete evidence. "There have been instances where DNA reports have solely led to conviction in a case,'' she said.  
DNA Profiling
DNA or Deoxyribonucleic Acid, present in every cell of human body, is made of base chemicals like guanine, cytosine, thymine and adenine The DNA strands extracted are too small for analysis, so they are artificially enlarged  
DNA comprises small sequences of base chemicals, which continuously repeat end-to-end. The number of times is unique in an individual. No two people have the same DNA sequence. The unique sequence is matched with the DNA from the crime scene
A DNA report is a very strong piece of evidence, but is not treated as substantial evidence by itself. It means a person cannot be convicted on the basis of DNA alone. Supreme Court rulings say DNA test reports must be corroborated by substantial or circumstantial evidence.  
The Bombay High Court too, this year, held a DNA test was conclusive evidence but its admissibility as sole evidence is not yet allowed.  
At first instance, the residents of Nehru Nagar appreciate the arrest of 19-year-old cable technician Javed Shaikh, but the revelation that multiple criminals could be involved in the crimes involving Sania Sikandar Shaikh and Anjali Jaiswal has caused another wave of alarm.  
Local residents are circumspect about the fact that the police has now demolished the notion of a serial killer altogether.
"Earlier the police said the DNA samples found on the three victims were the same, so all the crimes must have been carried out by one person. They also said they found two-rupee coins near every corpse. Now they have reneged and are saying that the DNA samples vary,'' says social worker Vijay Devkar.
"The modus operandi is the same. It is difficult to believe that different men, all of whom know the difficult topography so well, should suddenly develop a mad wish to rape and kill little girls, and on the sixth of each month at that,'' he adds. The anonymous telephone call that was made to the police warning of another crime on the sixth of July weighs heavily on their minds.  
The discovery came the morning after the police prepared a second sketch of the killer. On Monday night police commissioner Sanjeev Dayal showed a new drawing to a select group of four individuals comprising Afzal Usmani and Moosana Shamsuddin, the local pointpersons of the police and office-bearers of Sai Shraddha SRA building where the body of the first victim was found.  
Also part of the inner circle was Salim Nagori, the local teashop vendor. The three men identified the killer as a beggar who had not visited the area for four months. "Luckily, he arrived for tea at 8 am on Tuesday and I got him arrested,'' Nagori told Times of India.  Nagori said the man was kept engaged with three cups of tea and some cigarettes till the police arrived.  
Javed Shaikh (19), a Class X dropout, has been working for three years to support his family.
 He worked with a cable operator called Raju Patil, for a monthly salary of Rs 4,500, checking connections, collecting bills and the like. Neighbours said he is always out on work so he is rarely seen in the area and little is known about him.
Sources said as many 32 youths from the Kasaiwada area were picked up by the police and their DNA samples tested. Police say his DNA samples are a 100% match with those from the body of the third victim, Nusrat Shaikh.
But Javed's mother says:  "He is the best of my four sons and shouldered the family responsibility at an early age. I know my son very well, he will never indulge in such a crime. You look at his face, he looks so innocent. Police are trying to frame him under pressure to show the case is solved. Wait and see, he will come clean like Mohammed Ajmeri,'' insisted Javed's mother Raziya Rehman Shaikh, breaking down when at around 11 am television channels started flashing Javed's name as the accused.  
Javed has five siblings—elder brother Mohammed Shafi works as a shop assistant, younger brothers Wahid and Akhtar are in classes VII and VIII, while his two married sisters live nearby.  
The family calls a tiny 10x15 room in Gulam Rasool chawl its home, in the congested lane of Kasaiwada at Kurla (east), a densely populated area comprising mostly butchers and cattle sellers. Javed's unemployed father stays in their native place in Solapur.  
"My son did not return from work on Tuesday evening and when I asked his employer Raju Patil, he told me police have taken him for routine questioning and he will be back. Patil assured me he will get Javed back. Now he is not taking my calls or responding,'' Raziya said. "The police has still not informed us of his arrest,'' alleged his brother Wahid.  
To solve the case, police kept a close watch on movements of people like cable operators, internet service providers, postmen and milkmen.  
"They are familiar with the locality and can easily mingle with locals without anyone suspecting them,'' a police officer said.
"We went through cellphone network records of Javed to find out areas he had visited on the day of the crime. He took a train at Kurla station and got down at Vidyavihar. Later he went to Kurla (E). His network records showed at 6.30 pm, he was in Shramik Nagar, from where Nusrat was kidnapped at the time.''  
"We found the victim's slippers on the steps leading to the mezzanine floor of the house where her body was found. Javed finding the door locked, took the body to the roof, where he made a hole. He then tied her hands and legs and squeezed the body through the hole,'' an officer said.