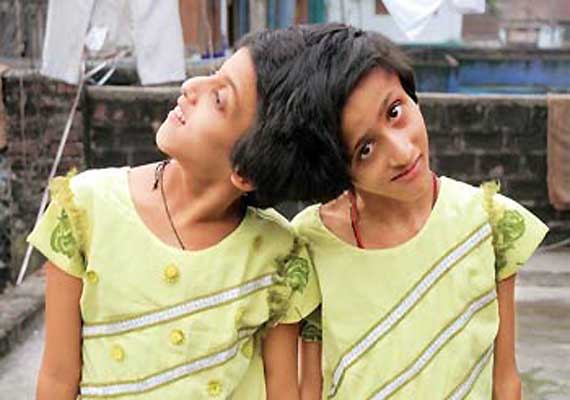 New Delhi, Aug 21: With the mother of the conjoined twins expressing apprehension over the kids' safety, the Supreme Court today directed a specially-constituted AIIMS team to visit Patna to examine their present condition and render medical aid.
A bench of justices K S Radhakrishnan and
Dipak Misra
passed the order after taking note of a letter written by the girls' mother expressing apprehension that if the twins were air lifted to Delhi for treatment it could pose a threat to their lives.
She submitted in the letter that the girls' condition had deteriorated about four years ago after they had been brought to a private hospital in the national capital. The girls were subsequently moved back to Patna.
The letter written in Hindi also urged the apex court to direct the government to sanction monthly maintenance amount for the 16-year-old conjoined twins Saba and Farah Saleem.
Responding to the plea, the apex court asked the medical team constituted by it to visit Patna and file a report before it and posted the matter after three weeks.  
In pursuant to the apex court's direction, the Centre had earlier constituted a 3-member expert medical team comprising two paediatricians from AIIMS, Minoo Bajpai and A K Bisoi, besides Dr Mukul Verma of Apollo Hospital.
The court's order had come on a public interest litigation (PIL) petition by Aarushi Dhasmana, a second-year law student from Pune, through counsel Ravi Prakash Gupta, seeking medical aid for the girls on the ground that the two grown up girls born as twins joined at the head are undergoing immense pain and are unable to even sleep due to consistent acute pain.
While seeking medical aid at government's expenditure, the PIL said if it is not possible, the parents be permitted to adopt "mercy killing" for the twins.  
Saba and Farah have been bedridden and are experiencing persistent, acute pain and distress and are neither able to sleep adequately nor get up from their bed and this has made their lives miserable, said Dhasmana's petition.  It said the twins' father, Mohammad Shakeel, a tea stall owner in Patna, who is distressed by their growing sufferings, had pleaded for mercy killing for his twins last year.  
Gupta had said an expert team headed by American specialist Dr Benjamin Carson about 5 years ago opined that separating Saba and Farah would require five or six operations, spread over nine months, but each stage held a one-in-five chance that one of the girls might die.  
The twins' family had decided against the surgery despite Abu Dhabi's crown prince Sheikh Mohammed Bin Zayed offering to pay for it, the petition had said.
A team under Dr Carson, had found that they shared a vital blood vessel in the brain and that Farah had two kidneys, while Saba had none, it added.
The petition said "due to lack of sufficient financial resources, their family has been unable to provide them with adequate medical treatment and facilities."
Accordingly, the father of the conjoined twins should be given either the financial support to treat his daughters or be granted permission for mercy killing, the petition said.