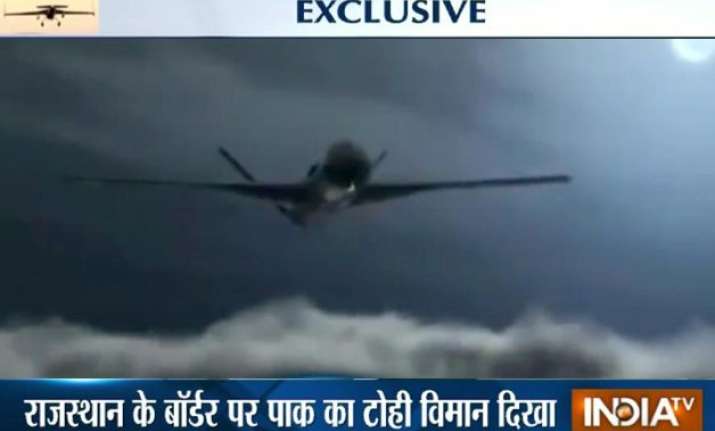 New Delhi: Pakistan is secretly spying on Indian territory along International Border through unmanned aerial vehicles. 
According to exclusive details available with India TV, BSF spotted Pakistani drone flying just 300m away from Indian territory near international border adjoining Ganganagar, Jaisalmer and Bikaner in Rajasthan. 
The unpiloted aerial vehicle also snapped pictures of Indian side using its high-resolution secret cameras.
Sources said that Pakistan is taking a stock of security arrangements along the border areas. 
They said that BSF jawans have spotted red lights blinking in sky during night especially in last few days, apparently of drone spying on Indian side. 
Experts said that the lights are of drone flying at an altitude of 500m. 
The Indian side also raised the issue with Pakistani rangers during a recent flag meet. 
Last month, Pakistan had launched an indigenously developed armed drone 'Burraq and Barq'. The remote controlled air vehicle has impressive pinpoint accuracy and has all-weather and multiplied capability against terrorists.
Army Chief Gen. Raheel Sharif had at that time said that Pakistan would use these aircrafts, capable of firing laser-guided missiles, to target militants hideout but it has so far used Burraq for spying on Indian side. 
Defence sources, however, said that Pakistan Rangers denied spying on Indian side using drones.