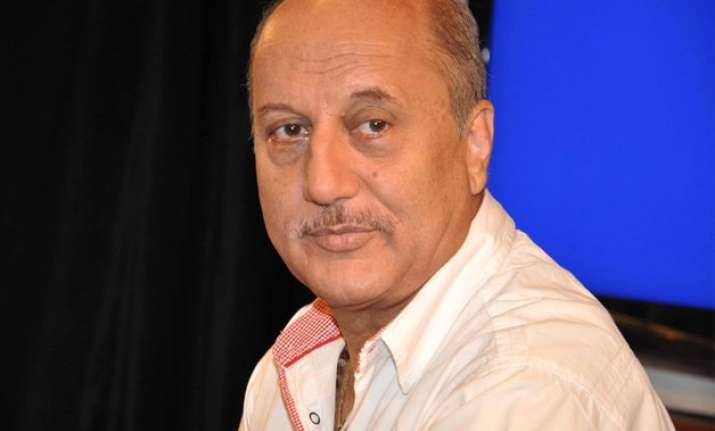 New Delhi: Pakistan High Commissioner to India Abdul Basit today called veteran actor Anupam Kher to express regret over denial of visa to him for the Karachi Literature Festival, which begins on Friday.
Basit also requested the 60-year-old actor to apply once again for visa and the High Commission will take his papers on priority. Anupam, however, refused to accept Pakistan's offer.
"Thank you Abdul Basit for your call &offering me visa to visit Karachi. I appreciate it. Unfortunately I've given away those dates now," he tweeted.
Anupam was to attend the Karachi Literature Festival which begins on Friday. However, while 17 out of the 18 Indians who were due to go received their visas, Anupam said he was 'singled out'.
At a press conference he called in Mumbai yesterday, Anupam said, "I was excited to go there.. there is a lot of possibility of lot of things that can happen so I changed my shooting schedule accordingly. For the last 15 days my papers were ready for the visa... my point is I am not angry with anybody.. I am hurt, upset and I am somewhere feeling wanting to know the reason out of 18 people why only I have been singled out."
Yesterday, Manzoor Ali Memon, a diplomat at the Pakistan High Commission, had said that the Bollywood actor 'never submitted visa application and asked to check out from him if he has any receipt'.
On the Pakistan High Commission's claim, Anupam said if it was true then how 17 others got the document and that why the organisers had put his name in their posters.
On the other hand, the organisers of the annual Karachi Literature Festival (KLF) said they are unaware of the reasons for rejection of visa to the actor. The KLF spokesperson said around 35 invitees from abroad are participating in the festival including from the US, Britain and Bangladesh besides India.
This is the second time that Pakistan has denied Anupam a visa to Pakistan. It was in May last year that the actor was denied a visa. He was to visit Lahore for an event hosted by an NGO, but according to reports, back then it was denied on security grounds.
This time, he was invited as a guest at the three-day Karachi Literature Festival. Among the Indians who will be present at the literature festival are Laxmi Narayan Tripathi, Rahul Singh, Om Arora, Urvashi Butalia and Ashok Chopra.