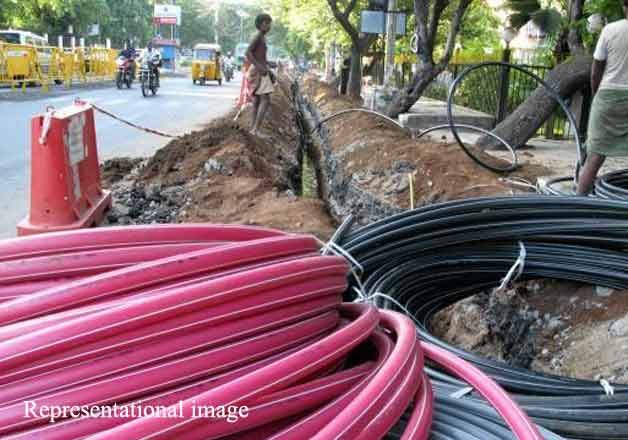 New Delhi: The Odisha government today asked the Centre to provide full broadband connectivity in 16 districts of the state this year and set up an 'IT investment region' in Bhubaneswar at a cost of Rs 3,700 crore.  
Odisha Chief Minister Naveen Patnaik met Communications and IT Minister Ravi Shankar Prasad today and demanded an exclusive portal for Nabakalebar festival 2015 and a commemorative stamp marking the celebration.
 "I had a very fruitful discussion with the Minister and have sought the approval for setting up an Information Technology investment region at Bhubaneswar entailing a cost of Rs 3,700 crore," Patnaik told reporters after the meeting.
He said the Centre should direct Bharat Broadband Nigam Ltd (BBNL) to ensure full connectivity of 16 districts comprising 3,298 gram panchayats by December 2015 under the National Optical Fibre Network Project (NOFN) and the remaining 14 districts by December 2016.  The Centre has set a target to roll out the network across all the 2.5 lakh gram panchayats in the country at a cost of about Rs 30,000 crore by the end of 2016.  He also demanded improving greenfield electronics cluster at Info Valley, Bhubaneswar.
Patnaik also pressed for the Centre's nod to set up three new software technology parks in Jajpur, Angul and Sambalpur and to provide detailed guidelines and funding pattern necessary to actualise Digital India programme.  In view of the ensuing festival in the state this year, he sough the Centre's support for developing an exclusive portal for 'Nabakalebar 2015' and issuing a commemorative stamp marking the festival.
Prasad said the issues flagged by the Chief Minister were discussed.
On electronic cluster, Prasad added that in-principle approval has already been given.
He said both the Centre and the state have to work together for the success of the 'Digital India' initiative.