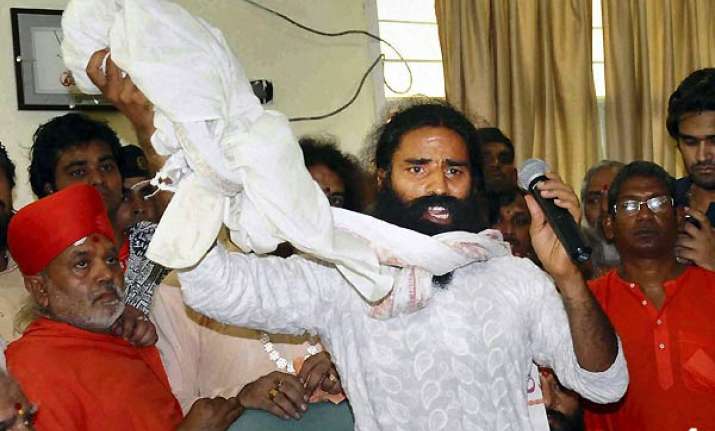 Haridwar, Jun 6: Swami Ramdev, who was caught in a dramatic fashion while trying to flee in a woman's attire from Delhi's Ramlila Maidan, today justified his act.

"It was not a weakness to be in woman's dress. A mother gives birth to a man," Ramdev said when asked at a press conference here about his act of shedding the saffron attire and posing as an injured woman in trying to escape from the protest site following the police crackdown.

The 46-year-old Yoga Guru almost gave the police a slip by jumping from the dais in Ramlila Maidan and vanishing into thousands of his supporters on Saturday night.

About two hours later, he was caught outside the protest site while posing as an injured woman wearing a white coloured salwar suit with his head covered with a dupatta. At the time of arrest, he was pretending to be moving with a support of two women around whom he put his arms.

Ramdev lashed out at Delhi Police, alleging its personnel attacked innocent women and children. "Lobbing teargas shells in a closed shamiana was the most violent act of the police," he said and alleged "police did not allow any injured person to stay in hospitals."

To a question, he said "I have respect for the Prime Minister Manmohan Singh at personal level but he did not discharge his national duty (rashtra dharma) ."

He referred to the Supreme Court taking suo motu notice of the crackdown and thanked it.

Human rights organisations and the National Commission for Women should also take note of the "atrocities" committed against innocent people including women and children at Ramlila ground, Ramdev said.

The yoga guru  alleged that police wanted to carry out a "blast" on the dais, so that the blame could be shfited on a nearby mosque and make it out a communal issue.

Ramdev alleged that the  forged e-mail about threat to attack was also generated by the police.

"This government", Ramdev said, "is more cruel and barbaric than the British rulers. They have murdered Gandhian principles. Had Gandhiji been alive, he would have probably wept."

The yoga guru brought forth his women disciples, who alleged that policemen misbehaved with them, and even entered the women's toilets to catch hold of them.