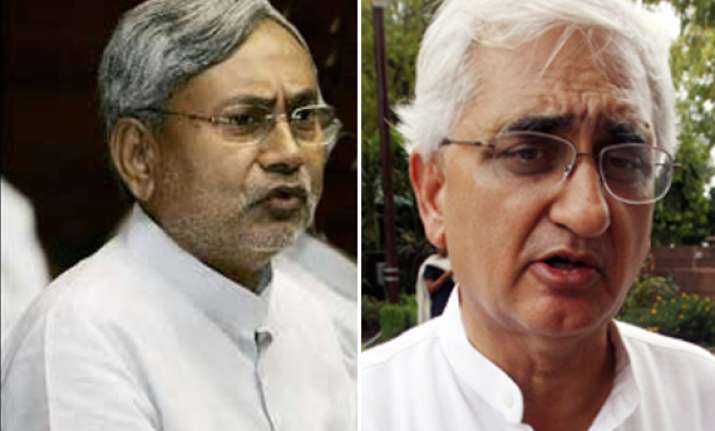 Patna, Feb 13: Bihar Chief Minister Nitish Kumar today said Prime Minister Manmohan Singh should take an appropriate decision on Salman Khurshid's controversial comments on minorities' quota in the wake of Election Commission's strictures against the Law Minister.

"It is the work of the PM to control his minister... and if the Election Commission is convinced that its constitutional order has been violated then the Commission should adopt a strict posture," Kumar told reporters when asked as to whether he favours removal of Khurshid. 

"The Congress has always been advocating that it respects the constitutional institutions and the party minister is openly violating it... and it reflects that the party and its government is not serious on the Salman Khurshid issue," he said.

Salman's "flagrant violation" of EC's directive is a very very serious issue, Kumar said, adding "the Prime Minister and Election Commission held the key for paving the way to a solution of the impasse."

Throwing model code of conduct to the wind by a Central minister is now also the look out of the Election Commission and it should act stringently, he said.

"Earlier the Congress spoke about giving reservation for minorities... and now its minister is speaking about reservation for Muslims," Kumar said and alleged that it was aimed at influencing the UP Assembly elections.