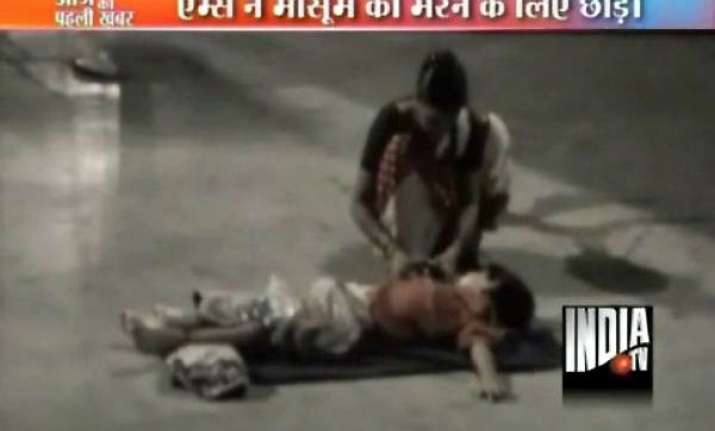 New Delhi, Aug 9: In a serious incident of gross negligence, doctors at the prestigious AIIMS took 22 hours to restore the oxygen ventilator pipe of an eight-year-old Bihar boy suffering from brain tumour, throwing him into a coma.

Kunal Pandey, a resident of Ara in Bihar was admitted to AIIMS on June 30 with  complication of brain tumor.

Fifteen days ago accidentally, the oxygen ventilator pipe got removed from the boy while under treatment.  The family  made repeated requests to the doctors to the malfunctioning oxygen people but the doctors did not listen.

The oxygen ventilator pipe was  replaced after 22 hours, by which time the boy had slipped into coma. However, when it was replaced it was of no avail.

On Monday, after 15 days, the desperate family took discharge aainst medical advice from AIIMS  and planned to take him to Mumbai Tata Memorial Cancer Hospital. The family landed  on the pavement of New Delhi Railway station.

As the boy lay on the pavement, with his mother adjusting his oxygen mask, police and an NGO swung into action and got Sonal re-admitted to AIIMS where he is currently fighting for his life.