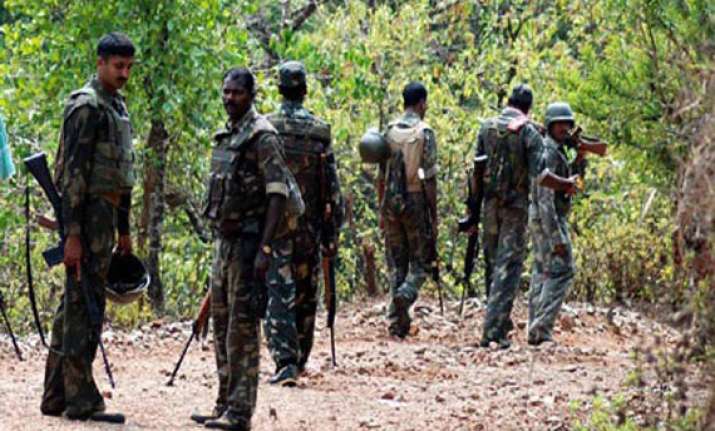 Raipur: Two dreaded Maoists allegedly involved in last year's ghastly Jiram valley attack which killed 31 people including some Congress leaders, were today arrested in Chhattisgarh's insurgency-hit Bastar district.  A cache of explosives was also recovered from the ultras, police said.
Acting on specific inputs, the cadres were apprehended by a joint team of district force and Central Reserve Police Force from a mobile check post under Darbha police station limits this evening, Bastar Superintendent of Police Ajay Yadav told PTI.
During the interrogation, the arrested rebels, identified as Sukhdev Naag (31) and Manjhiram Kashyap (32), natives of Tongpal police station limits in bordering Sukma district, revealed that they were among the cadres who targeted Congress convoy in Jiram valley, Yadav said.
As per their statements, Sukhdev was in the group of armed rebels, who gunned down senior Congress leader Mahendra Karma and other Congressmen, while Manjhiram passed on crucial information regarding the movement of Congress convoy and security forces in the region ahead of executing the attack to military platoon of CPI (Maoist), the SP said.  Manjhiram also acted as an informer in dispensing key details about the movement of security personnel ahead of Tahakwada attack under Tongpal police station limits killing 15 security personnel and a civilian in March this year, he said.
Notably, based on the statements of three ultras, including two women, who surrendered yesterday in Jagdalpur, the security personnel intensified its combing in the region to catch those local cadres who were involved in attack on Congress convoy in Jiram valley of Darbha.  Meanwhile, Sukhdev and Manjhiram were nabbed while they were riding on a bike along with explosives between Darbha and Jiram camp of security personnel during checking of the vehicles, he said.
A two-kg IED (improvised explosives device) and Maoist pamphlets were seized from their bike.  Apart from that, another 2-kg IED and pamphlets were also recovered from Sukhdev's Tahakwada village, the SP said.  The National Investigation Agency (NIA) which is probing the Jiram valley incident has been informed about the arrest of the cadres, the SP said, adding that, their interrogation may reveal crucial details in connection with other major Naxal incidents in Bastar region.
In a separate search operation in Maoist-hit Kanker district today, a rebel was nabbed by a joint squad of Border Security Force and District Force from Rowghat police station limits.
The arrested jan militia member was involved in various criminal offences, including arson, brawl and torching vehicles.
Moreover, he was allegedly helping Naxals in supply of commodities of daily use, installing posters and banners and others in the remote packets, Kanker Superintendent of Police R N Dash said.
On May 25, 2013, Naxals had ambushed Congress' Parivartan rally convoy on Jiram valley of Bastar's Darbha region when it was on the way towards Jagdalpur from Sukma.  A total of 31 people, including PCC chief Nandkumar Patel, his son Dinesh, former Union minister Vidayacharan Shukla, former leader of opposition Mahendra Karma, and ex-MLA Uday Mudliyar were killed and several others were injured.