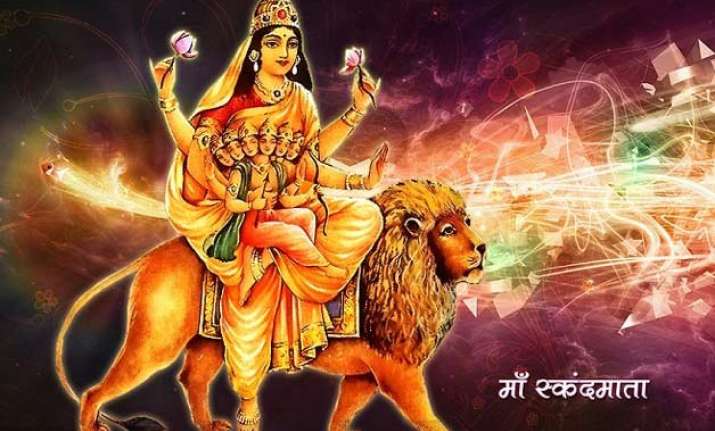 On Day 5 or 'panchami' of navratri, Maa Skandmata is worshipped. She, the mother of 'Skand', bestows her devotees with inestimable knowledge.
Skand is none other than famously-known son of Lord Shiva and Goddess Parvati - Kartikeya.  Hence, it is the holy being Parvati only who is also known as 'Skandmata'.
 Devi Skandmata is deity of fire. She is white and seated on a lotus in all her elegance. She has 'Skand' or 'Kartikeya' in her lap.
She has four hands. With one hand, she holds Skand. With two other hands, she holds two lotuses and her fourth hand appears as a gesture of granting, probably the wishes of her devotees.
It is said that by the mercy of Maa Skandmata, even an idiot becomes an ocean of knowledge. Legends say that Sanskrit scholar Kalidasa was able to create the two masterpieces – 'Raghuvansh Maha Kavya' and 'Meghdoot' with the grace of Maa Skandmata.
On panchami or on fifth day of Navratri, one should worship mata with all devotion. One should chant this mantra in her reverence –
या देवी सर्वभू‍तेषु माँ स्कंदमाता रूपेण संस्थिता।
नमस्तस्यै नमस्तस्यै नमस्तस्यै नमो नम:।।
One should wear Royal Blue color on this day and appease mata by offering bananas. One should read seventh chapter of Durga Saptashati Katha on this day.
Maa Skandmata showers immense love and devotion on her devotees. One should pray to her with true devotion.