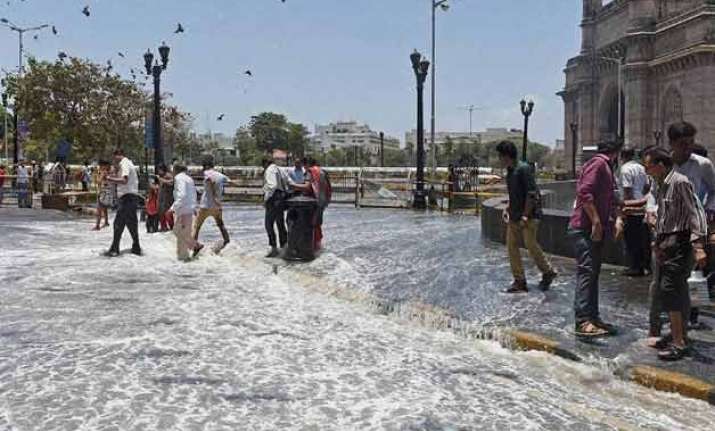 Mumbai: People who turned up at Gateway of India to enjoy scenery and cool breeze on Tuesday got more than what they hoped for when hundreds of currency notes of Rs 1,000 washed up ashore.
The unexpected and sudden appearance of money led to high drama and turned into an adventure when people jumped up into the sea and fought the waves to get their hands on a couple of notes.
People from far places such as Colaba and Cuffe Parade had turned up in search of the lost treasure.
City cops have been left baffled in trying to find the source of the money. But for the moment they were just trying to control the crowd that had turned up to grab the floating money.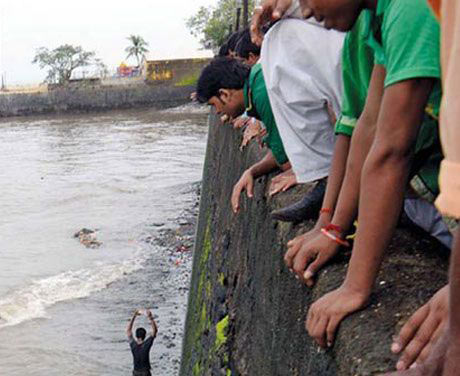 Local fishermen, swimmers and hawkers spotted the money first; mostly Rs 1,000 notes.
Some of the onlookers jumped up into the sea instantly to grab a note and some of them came up after hearing the news.
Soon, the cops from nearby Colaba station turned up and started pulling out people from the sea.
Several theories have been coined since then on where the money came from.
Wealthy person flung it into sea:
Some onlookers were heard talking that a wealthy person, after being cornered by thugs, flung the money into the air near the beach. The amount estimated was said to be a few lakh rupees.  
Garland made of currency notes used for religious ceremonies:
Another theory put forward by the people present was that the money came from garlands made of notes that are used for religious ceremonies. They were disposed into sea but the notes waved ashore, people said.
Terrorist hid the money:
People also used 'terrorist theory' to explain the origin of the money. Some said that terrorist hid the money in case they run out of money during a future attack. Some said terrorist hid the money so they could use it to distract people in future.
Local news daily quoted Assistant Police Inspector Vijay Mali from Colaba police station as saying, "We found out about the incident only around 6 pm. Many rumours are going around about the source of the money. We don't know where it came from, but it is dangerous for people to go into the sea, especially since it is high tide in the evening."
Other police officers also denied any knowledge about the origin of the money.