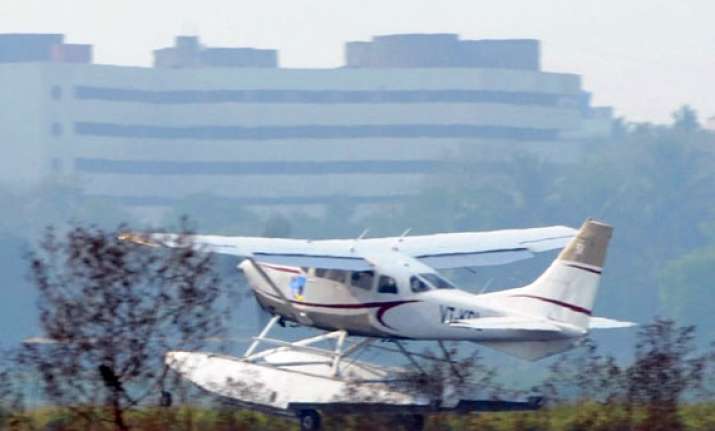 Mumbai: India's first seaplane service from the mainland was launched yesterday, a move which is likely to boost tourism, especially in coastal areas.
Maritime Energy Heli Air Services (MEHAIR), in association with Maharashtra Tourism Development Corporation (MTDC), launched the service between Mumbai and Aamby Valley near Lonavala, about 120km from here.
The city-based private company has deployed a four-seater Cessna 206 amphibian to operate the service and has offered an introductory fare of Rs 4,000-4,500, MEHAIR Co-founder and Director Siddharth Verma said at the launch.
MEHAIR is operating similar services in Andaman and Nicobar Islands since January 2011, providing inter-island connectivity.
Seaplanes require either a 1-km long airstrip or a water body, which is one km long and at least 10 feet deep.
"India has a 10,000 km long coastline and finding a suitable place for a seaplane any where in the country will never be a problem. We are aiming to become a dominant player in the segment over the next five years.
We anticipate a fleet of 25 seaplanes and operations across 10 states by that time," Verma said.
With many of the water bodies being a popular tourist destination and not connected by air, they offer a good business potential for us and this is where MEHAIR has a big role to play, he said.
The company has invested Rs 15-20 crore to put in place necessary infrastructure and acquire aircraft, he said.
"We plan to launch five destinations out of Mumbai, including one between Juhu and Nariman Point, by March as part of the first phase of the project."
Besides Aamby Valley lake, MEHAIR, in the first phase, will launch services to Gangapur Dam in Nashik, Mula Dam in Shirdi, Pawna dam in Lonavala, Varasgaon Dam in Lavasa (Pune district) and Dhoom Dam in Mahabaleshwar (Satara district).
In the second phase of expansion, seaplane operations will be rolled out in tourist hotspots in the Konkan region like Ganpatipule, Harihareshwar, Tarkarli and Murud Janjira, Verma said.
"We expect to cover Maharashtra, Gujarata, Karnataka, Goa and Andhra Pradesh in the next one-and-a-half years," he said. MEHAIR plans to induct one more plane, a 19-seater, in April, taking its fleet size to three, he said.