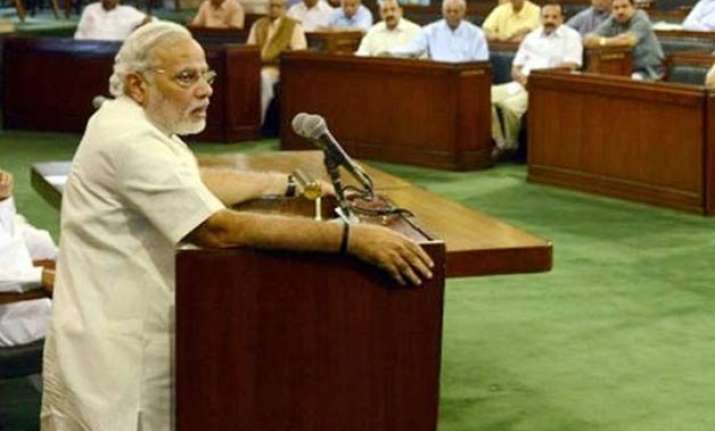 Prime Minister Narendra Modi to address BJP Parliamentary Party meeting today
Delhi:
Prime Minister Narendra Modi will today address the BJP Parliamentary Party meeting at 09:30 am.
Smriti Irani to visit Rahul Gandhi's constituency today
Amethi: Union Minister Smriti Irani will visit Rahul Gandhi's constituency Amethi today where she will meet farmers affected by untimely rains. Congress has said it will oppose the meeting over the cancellation of food park project.
SC to hear Subramanian Swamy's plea on black money today
New Delhi: The Supreme Court has told BJP leader Subramanian Swamy that it will hear him on the issue of black money when the Special Investigation Team (SIT) is also likely to file a fresh status report.
Land Bill likely to go to joint committee
New Delhi: With no consensus in sight and the government facing a number crunch in the Rajya Sabha, the contentious land bill may be referred to a joint committee of both Houses of Parliament and the GST bill to a select committee of the Upper House.
Sonia Gandhi to meet party MPs today
Delhi: Congress president Sonia Gandhi will meet party MPs today to chalk out further strategy on Parliament session.
Amit Shah, Nitin Gadkari to attend BJP meet in Ghaziabad today
Ghaziabad: BJP president Amit Shah will address Uttar Pradesh State Executive Meeting at 12:30PM at ITS College, Mohan Nagar, Ghaziabad where Nitin Gadkari will also be present.
RLD chief Ajit Singh to hold Kisan Samvad Sammelan today
Meerut: Rashtriya Lok Dal (RLD) chief Ajit Singh to hold Kisan Samvad Sammelan today regarding loss of farmers due to rains and hailstorm and farmers suicide.
Tata to chair Railways' Kaya Kalp council meeting today
New Delhi: Noted industrialist and Tata Group's chairman emeritus Ratan Tata will chair the first 'Kaya Kalp' council meeting at Rail Bhawan .
Prez Pranab Mukherjee to present Florence Nightingale Awards today
New Delhi: President Pranab Mukherjee will present the National Florence Nightingale Awards to 35 nursing professionals on International Nurses Day, today.