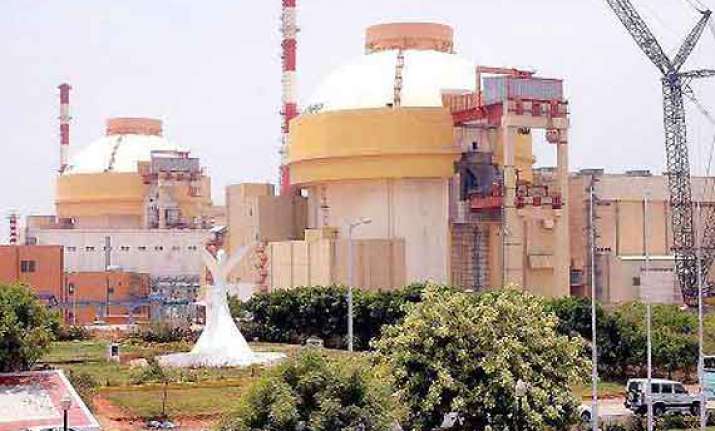 Chennai: The first unit of the Kudankulam Nuclear Power Project (KNPP) that tripped Oct 22 is expected to be reconnected to the grid Friday night/Saturday, said informed sources.
Two highly-placed sources in the atomic energy establishment told IANS Friday evening that the unit started operating at 25 percent level and is likely to be reconnected to the grid.
"The unit is expected to generate around 300 MW," a source said.
According to Power System Operation Corporation Ltd, the KNPP's first unit with a total capacity of 1,000 MW tripped Oct 22 early morning due to reverse power and is expected to be revived/reconnected to the grid Oct 26.
On Oct 22, the first unit at KNPP was synchronized with the power grid at 2.45 a.m generating 75 MW of power. The power generation was increased to 160 MW.
Nearly two hours later, the unit tripped though KNPP officials maintain that the plant was stopped.
Speaking to IANS Tuesday, KNPP site director R.S.Sundar said the unit would generate 300 MW in two/three days time.
Queried about the tripping, a senior official of the Atomic Energy Regulatory Board (AERB), preferring anonymity, told IANS: "There is no problem as far as the safety of the plant is concerned. Such things happen even in other thermal/hydel power plants as well."
A source closely associated with KNPP told IANS: "The tripping of the unit due to reverse power may be due to several reasons including due to the problem in the transmission line/grid. Normally it would take some days for a unit of KNPP size to stabilise".
The Nuclear Power Corporation of India Ltd (NPCIL) has setting up two 1,000 MW Russian reactors at Kudankulam in Tirunelveli district, around 650 km from here. The total outlay for the project is over Rs.17,000 crore.
KNPP is India's first pressurised water reactor belonging to the light water reactor category.
The first unit attained criticality, which is the beginning of the fission process, for the first time in July 2013.
In August, the AERB gave its nod to KNPP to raise the reactor power levels to 50 percent and synchronisation of the unit with the power grid.
The NPCIL earlier said it would connect the first unit to the grid end-August, generating 400 MW power.