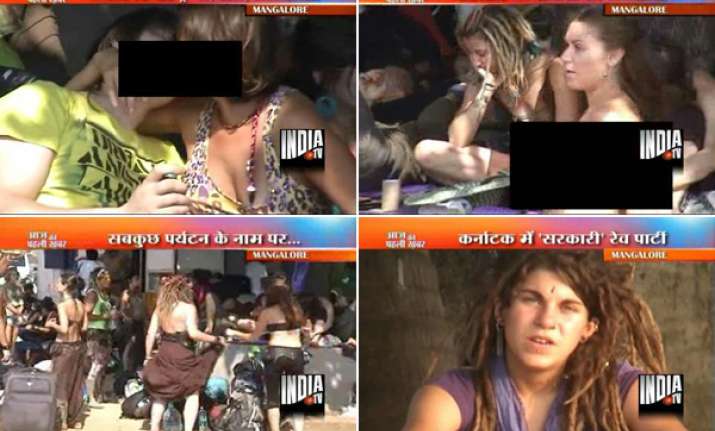 Mangalore, Feb 7: The Spring Zouk Island Festival 2012 hosted by the Karnataka tourism department recently has generated a controversy over use of drugs by foreign tourists who were found engaged in semi-nude frolic on the beach of St Mary's Island.

Facing heat from various quarters over the alleged unethical behaviour by foreign tourists  and use of drugs at  the festival, the  Udupi district administration sent a report of the fest to the chief minister's office and department of tourism on Monday.

Deputy commissioner MT Reju claimed that nothing of the sort as being portrayed by electronic media has happened.

"The channels which are beaming these clippings (of couples in a compromising position) have refused to part with the footage. How do we check if it's genuine?'' questioned Reju.

He said: "If not us, let the footage be examined by an independent agency at least.''

On alleged use of drugs, Reju said: "People entering the venue were frisked thoroughly at the jetty (Malpe) and also at the island entry point. There was use of liquor and cigarettes as the organizers had got permission from the excise department.''

Udupi MLA Raghupathi Bhat, however, admitted that some 10% of the foreigners 'may have' exhibited indecent behaviour.

"But why can't the media highlight how the rest of the foreigners enjoyed the fest? They enjoyed the music and local culture. We are organizing as an event to promote tourism for the first time, and lapses, if any, will not be repeated in future,'' Bhat added.

Bhat said: "The district administration rented the space. I visited the venue twice and found nothing indecent."

Some of the locals who were at the venue, alleged that foreigners were skimpily dressed, and they were sloshed.

"There may have been use of drugs as some were rolling cigarettes. We couldn't see anything what's being displayed on television,'' said a person, who attended the fest on all three days.