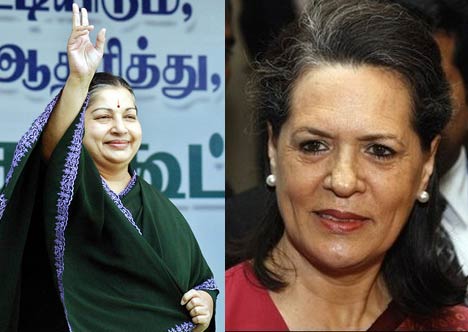 New Delhi, Nov 11 : AIADMK supremo Jayalalithaa on Thursday openly offered to support Congress in Parliament in return for dismissing Communication Minister A Raja. She also promised to bring support from other parties to make up for the loss of support from 18 DMK MPs to save the UPA government from collapse.
In an interview to an English news channel from Chennai, Jayalalithaa pointed out that she had been raising the 2G Spectrum scam issue since the last two and a half years, but it took time for the people to understand the true ramifications of the scam.  
"If Congress can sum up the political will (to sack Raja and discard DMK), I can ensure that the UPA government gets the backing of 18 MPs from other like-minded parties to save the coalition from collapsing", she said.  AIADMK has 9 MPs in Lok Sabha, while DMK has 18 MPs. 
"If Congress wishes to avoid going to midterm polls, I can assure that we have 9 MPs and with support from other fiendly parties, we can take the figure to 18", said Jayalalithaa. 
Pressed further, Jayalalithaa said: "I am not in the habit of making idle claims. When I say 18 MPs, I mean what I am saying". 
She also made it clear her offer was without any pre-conditions.  "There is no pre-condition except that I am interested that probity is restored. The perpetrators of this massive fraud must not be allowed to go scot-free", she said.  
"It's my open offer to Congress to dump the DMK. The reason why Congress is unwilling to sack Raja is obvious. It is the compulsion of coalition politics.  There is no point in expecting Raja to resign on his own and there is no point, too, in expecting DMK chief Karunanidhi asking Raja to step down", the AIADMK leader said.  
"The demand for sacing Raja has reached a crescendo and failure to take action will endanger the credibility of the Congress.  If Congress has to save its credibility from erosion, it has to dismiss Raja. What is holding the Congress from doing so?", asked Jayalalithaa.  
"From the CAG to the Supreme Court, each institution has commented adversely on the 2G spectrum scam.
It is a scam involving Rs 1,76,000 crore, a mind-boggling figure, and a scam of unprecedented magnitude in world history. Raja disregarded the advices of the Prime Minister, Finance Minister and Law Minister and went ahead on his own. He should not be allowed to go scot-free. He should be dismissed", said the AIADMK leader.   
Jayalalithaa pointed out that the Congress leadership has taken action in the cases of Shashi Tharoor, Ashok Chavan and Suresh Kalmadi and she believed Congress will not condone corruption. 
Asked about her differences with Congress in the past, Jayalalithaa said: "My party is 38 years old, I am in politics for the last 28 years. In politics, if you keep harping on the past, you can't move forward." 
On her aspirations at the Centre, Jayalalithaa said: "The first task of my party is to win the Tamil Nadu assembly election due early next year. That's my first priority. We hope to win the elections and give a strong government. Strong states make for a strong Centre. For a role at the Centre, only the future can answer." 
Jayalalithaa stressed on the need for strengthening  India's security, saying: "If at all I get to play a role at the Centre, my first priority will be to strengthen security. We can't ignore the threat from China, which has the best, most modern army in the whole world.  Not enough effort is being made to give our armed forces the best weapons and equipment. Defence spending should be stepped up. 
"Our responses to provocations from China and Pakistan are too mild. China and Pakistan would not have been arrogant or emboldened, had Indira Gandhi been the prime minister. Today India is being perceived a soft state because of lack of strong leadership at the Centre."