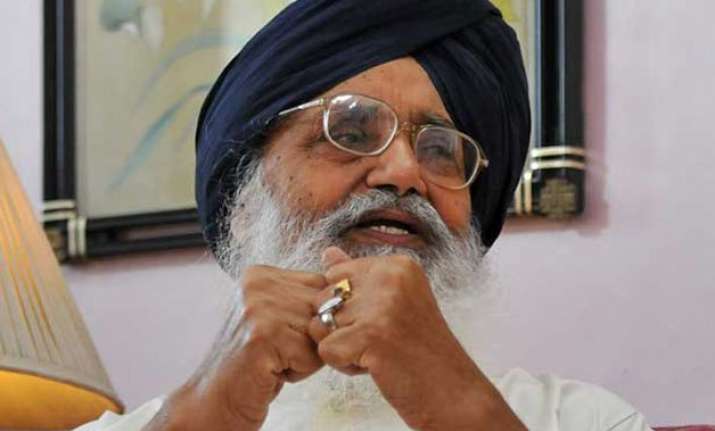 Chandigarh: Punjab Chief Minister Parkash Singh Badal today gave nod for setting up a state-of-the art 'Integrated Skill Development Centre' in the Ferozepur district in a bid to provide self employment opportunities to youth of the border area.
The decision was taken this morning at a meeting for reviewing the development works of Ferozepur district held under the chairmanship of the Chief Minister here at his office.
Badal said it was the need of the hour to make the youth of these far flung areas self reliant by providing them opportunities of gainful employment.  
The centre, to be established under Punjab State Skill Development Mission, will impart world class skill training to the youth in various sectors helping them to earn their livelihood besides producing a pool of skilled manpower in the state.
It would also have a Centre of Punjab for Youth Training and Employment (C-Pyte) to train the youth for recruitment in the Armed forces and Para-Military forces.
Likewise, the Chief Minister also gave approval for the construction of separate sheds in the existing ITI for imparting skill training to the women.  In another decision, the Chief Minister also gave his concurrence for transferring nearly two acres of land to the Health department for the construction of houses for the Doctors and other staff of the upcoming Satellite centre of PGI in Ferozepur.
Badal also approved the widening and upgrading of Ferozepur to Mallawala road at a cost of Rs 30.82 crore, besides the construction of road from Mallwall road to degree college at a cost of Rs 74 lakh.
He also asked the Housing and Urban Development Department to appoint the Executive Officer (EO) for issuing the NOCs for the illegal colonies.
Dwelling on another issue, the Chief Minister said he would soon take up the matter related to construction 20 kilometre bye-pass at Ferozepur from National Highway-95 to State Highway-20 at a cost of Rs 35 crore with the Union Surface Transport Minister Nitin Gadkari.
He said that this link was all the more important as it would ease out traffic from the city.  Badal also asked the officers of the PUDA to ensure beautification around the sites owned by it.  Meanwhile, the President of the state BJP Kamal Sharma, who was also present in the meeting, thanked the Chief Minister for showing special concern for the overall development of Ferozepur district in general and city in particular.
Sharma said that the initiative taken by Punjab CM would further propel the pace of growth and prosperity in the border district.