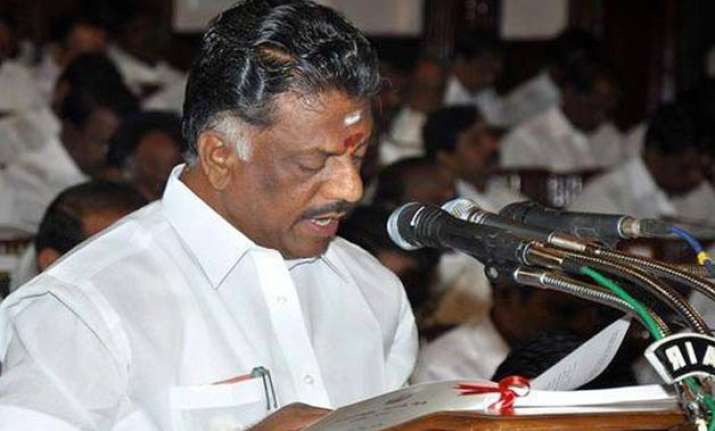 Chennai: Tamil Nadu Chief Minister O. Panneerselvam on Wednesday said the time has come for the central government to leave all indirect taxation to the states.
 
Presenting the state's budget for 2015-16, Panneerselvam, who also holds the finance portfolio, said the time has come for the central government to leave all indirect taxation to the states and retain only direct taxation.
According to him, this would help states leading in economic development not get dragged down for want of resources.
Panneerselvam said: "Tamil Nadu has been unfairly treated by the Fourteenth Finance Commission with a drastic cut in the horizontal share from 4.969 percent to 4.023 percent of the general shareable tax pool and from 5.047 percent to 4.104 percent of the service tax pool.
"The criteria adopted by the commission are neither fair nor progressive as efficiency and fiscal discipline have been totally ignored to the detriment of well-administered states like Tamil Nadu that are known for their prudent fiscal management," he said.
A state like Tamil Nadu that had invested heavily with resources mobilised by taxing its people and also with huge borrowed funds to accelerate economic growth, has been badly let down by the finance commission, he said.
He said the power of taxation was skewed in favour of the central government. The notion that a state with better economic growth should rely on its own resources alone is not based on any sound principle.
He said the bulk of the central government's tax revenues - income tax, customs duty, corporation tax, excise duty and service tax - are due to the efforts of the state governments but the latter are left with only sales tax as a revenue generator.
As a result, Tamil Nadu will face a resource crunch and will be at the perpetual mercy of the central government for resources even for normal administration, he said.
"The principle of co-operative federalism touted by the government of India expects states without equal resource capacity to be equal partners with the Centre," Panneerselvam said.