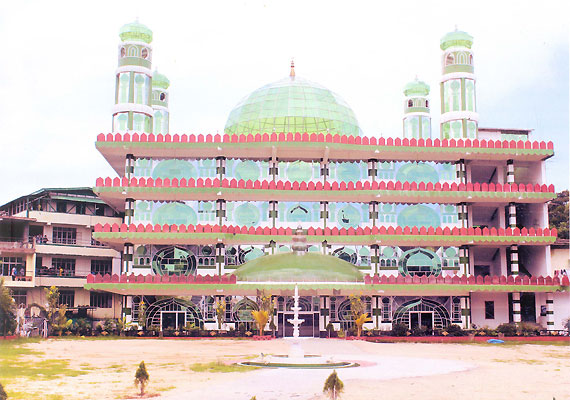 Shillong, Oct 15: India will have its first glass mosque - in the country's northeast.
Madina Masjid, an imposing and resplendent structure of glass dome and glass minarets, will formally open doors to devotees Thursday in Meghalaya's capital.
"It is an architectural marvel," Congress legislator Sayeedullah Nongrum, who helped in the mosque's construction, told IANS.
"It took us one and a half years to complete the only glass mosque in India and the largest one in the northeastern region," said Nongrum, who is also general secretary of the Shillong Muslim Union (SMU).
The four-storey building - 120 feet high and 61 feet wide -- stands inside an Idgah Complex in the city's Lahan area and is close to the garrison grounds along the Umshyrpi river. At night, the mosque's glasswork glows and glitters.
The mosque houses a new orphanage named Meherba, a library and a 'markaz'-- an Islamic theological institute.
Nongrum said the new theological institute would impart Islamic teachings and the library there would have books on comparative religious studies.
Madina Masjid has a capacity of around 2,000 people and has separate space for women to offer prayers.
"This place will be open for everyone, but one should maintain the mosque's sanctity," Nongrum said, adding that the mosque was set to become a tourist attraction.