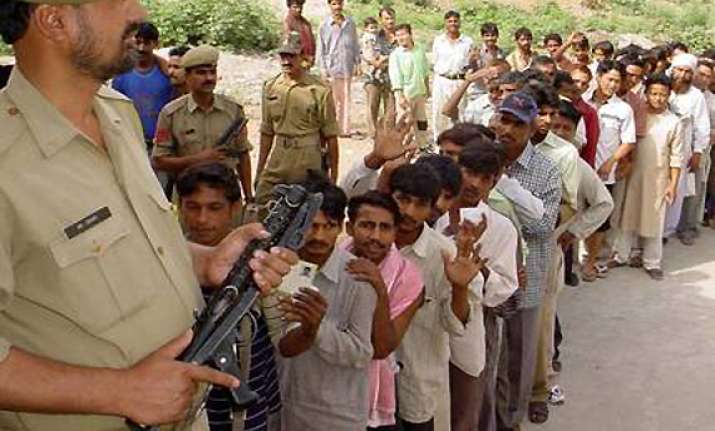 Hisar, Oct 13: The bypoll for the Hisar Lok Sabha seat today witnessed a voter turnout of around 70 per cent with the Anna factor raising the stakes for the ruling Congress in a triangular fight.

The polling, necessitated due to the death of sitting MP Bhajan Lal of Haryana Janhit Congress, passed off peacefully in the nine assembly segments of the Lok Sabha constituency - Adampur, Uklana SC, Narnaund, Hansi, Barwala, Hisar, Nalwa, Uchana Kalan and Bawani Khera (SC), official sources said.

The by-poll will decide the electoral fortune of Jai Prakash (Congress), Bhajan Lal's son Kuldeep Bishnoi (HJC-BJP) and Ajay Chautala (INLD). There are in all 40 candidates, mostly independents, in the fray.

"At 4 p.m. the overall poll percentage of the nine assembly segments was nearly 62 per cent. The overall poll percentage for today is set to cross 70 per cent mark against 69.3 per cent in 2009," Haryana's Chief Electoral Officer, Sumita Misra told PTI. Hisar has an electorate of 13.32 lakh.

Misra said polling remained completely peaceful and no untoward incident was reported from anywhere.

As the day progressed, polling picked up and was brisk in Adampur, Bhajan Lal's family stronghold, Hisar Assembly segment and Uklana SC Assembly constituency.

Counting will take place on Monday and the result is expected around noon.

Misra said barring a couple of technical glitches, the polling passed off smoothly.

EVMs had to be replaced at two places in Narnaund constituency.

In Agroha village in Adampur, people boycotted polling against non-resolution of a dispute over a piece of land.

For the first time, videography was done at all the polling stations.

"Foolproof security arrangements had been made to ensure fair and free election, with 4,000 personnel of para-military forces deployed in addition to the state police force spread across 1,506 polling booths, 339 of which were declared hyper sensitive and 387 sensitive," Misra said.

"We will retain 500 personnel to ensure peace on the day of counting on October 17," she said.

Misra said raids were conducted last night to check supply of liquor and cash to voters before the polls and added that 2,500 liquor bottles had been seized and 30 cases registered under the provisions of the Excise Act.

She said that for the first time people could watch live photos of polling over the internet and Youtube, which she described as a step forward in e-governance to involve common citizens.

The high-pitched campaign that came to an end on Tuesday evening was dominated by wrangling between the Congress and Team Anna, spearheading the anti-corruption campaign in the country.

In 2009 general elections, Congress had won nine out ten Lok Sabha seats in Haryana barring Hisar, which was bagged by Bhajan Lal.

The constituency has nearly 4.6 lakh Jat voters, 80,000 Brahmins, 36,000 Bishnois, 65,000 Punjabis while Scheduled Castes and Backward Classes constitute a sizeable number of over 5 lakh voters. Both Jai Prakash and Ajay Chautala are Jats while Bishnoi is a non-Jat.

The ruling Congress is looking for a victory to silence the opposition which has been targeting the state government and the UPA regime at the Centre on corruption and other issues. Congress is also trying to blunt Team Anna's campaign against its government.