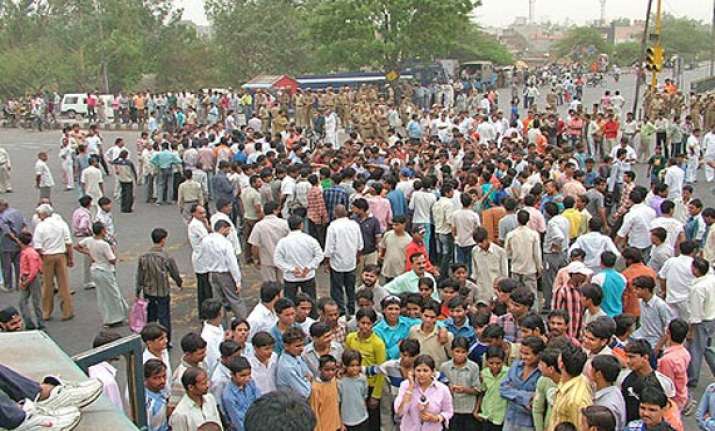 Jaipur: A clash between two groups during students' union election here led to tension in Dausa, prompting authorities to clamp prohibitory orders in the district yesterday.
Locals, mostly Gujjars, blocked National Highway-11 connecting Jaipur with Agra causing traffic disruptions on the route. However, the highway was cleared later in the day.  
"The highway was blocked last night near Bhandarej.
"Efforts were made to resolve the situation by holding talks with the agitated people and finally the highway was cleared," SP Dausa Dilip Kumar said.  
The police had to use mild force to disperse the people and the situation was now under control, he said.  "Over two dozen persons have been arrested since yesterday. "Additional police force have been deployed in the area to maintain law and order," he added.  
Yesterday, students and supporters of candidates contesting the polls barged into the residence of the Rajasthan Minister of State for Technical Education, Murari Lal Meena, and tried to vandalise the property when the minister was away.
The attack at the minister's house followed a clash between two rival groups led by Rajendra Gujjar and Siyaram Meena, both contenders for the post of students' union president of Dausa district college, police had said.
As many as six persons were injured in the clash as students went on a rampage pelting stones, burning a roadways bus and damaging some two-wheelers and vandalising a few shops and houses.
Police had to resort to force and firing tear gas shells to control the mob.