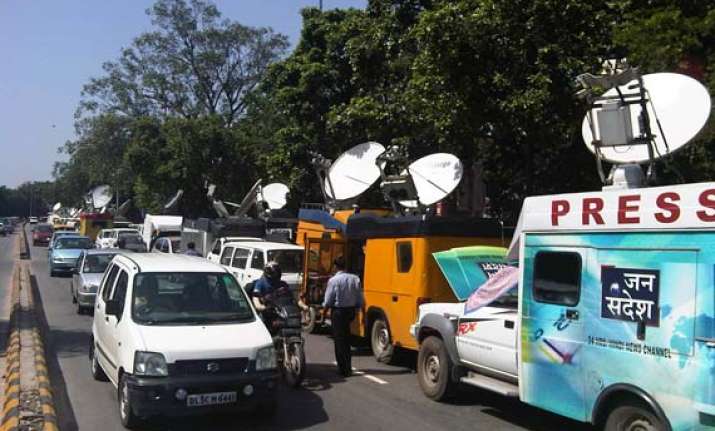 New Delhi, Dec 25:  Stating that some private news channels had not shown "maturity" in their coverage of protests against Delhi gangrape incident, government has asked them to show events in a "responsible manner" with "due care and restraint".
The Information and Broadcasting ministry in an advisory issued late Sunday evening warned that any violation of the Programme code under the Cable TV Network Rules, 1994 would invite action but I&B Minister Manish Tewari said that it was not aimed at any sort of regulation of media but only to see that programming rules are not violated.
The advisory said that channels were showing "round the clock" coverage of the incident as well as the efforts of the law and order agencies. This incident and the public outcry in its aftermath are "a very sensitive issue" and "any inappropriate" media coverage is likely to vitiate the law and order situation.
"It has been observed that some private satellite news TV channels in their 24X7 coverage have not been showing due responsibility and maturity in telecasting the events relating to the said demonstration and such a telecast is likely to cause deterioration in the law and order, hindering the efforts of the law enforcing authorities," the ministry said.
The advisory, signed by Joint Secretary in I&B ministry Supriya Sahu said that the Programme Code under the Cable TV Network Rules, 1994 provides that no programme should be carried which could incite violence or contains anything against the maintenance of law and order.
"Now, therefore, all private satellite channels are advised to scrupulously follow the Programme Code laid down in the Cable Television Networks Rules, 1994 and to ensure to telecast the matter in a responsible manner with due care, maturity and restraint," the I&B advisory said.
The ministry warned that any violation of the Programme code would invite action under the Cable TV (Regulation) Act, 1995.