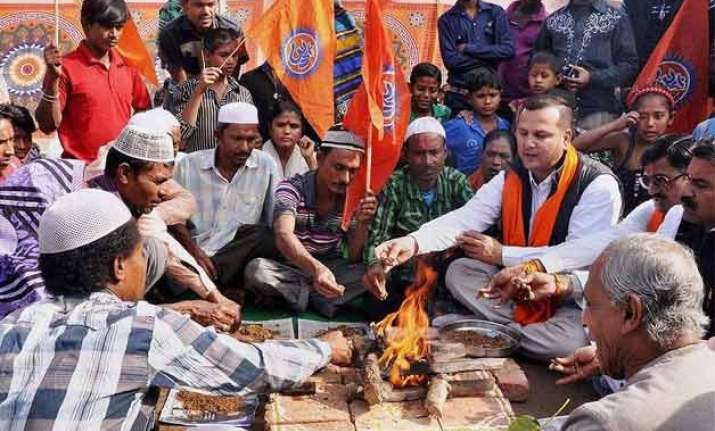 Agra: A family of 17 members here said it has returned to their original faith after having converted to Hinduism last year.
Rahmat (70), the head of the said family, told mediapersons that they converted back to Islam on Friday afternoon at Mahuar Lathia village in Achnera block.
He said that the ceremony was conducted in the presence of senior Imam, one Ahley Sunnat Muddassir Khan Qadri.
The family, Rahmat claimed, had converted to Hinduism on December 15 last year.
But, ostracised and refused permission to join marriages and other functions of the Nat community of which they were once part, the family chose to return to their original fold, he added.
Rahmat said that they would soon present their case before the community panchayat on May 14.
Last year in December, the alleged forced reconversion of about 100 people to Hinduism in Agra set off a chorus of criticism against the government by the opposition inside and outside Parliament while an FIR was also filed against an RSS wing which was said to have been behind the incident.
As the opposition parties called it illegal and demanded "strict" action, the government washed its hands of the issue, saying it had no role and that law and order is a state subject.