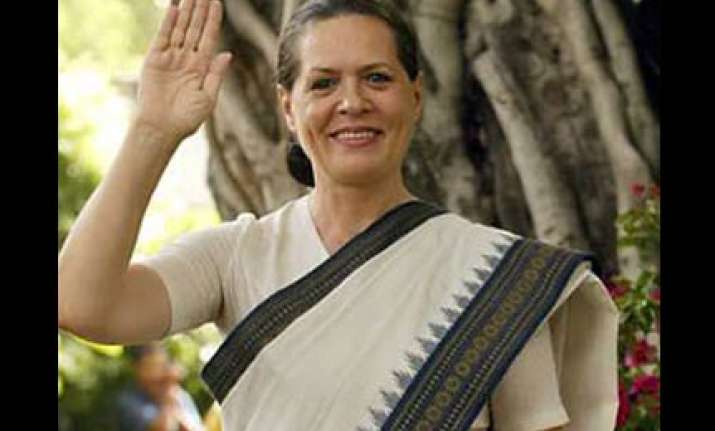 Allahabad, Nov 25: Congress president Sonia Gandhi today slammed the Mayawati government for its failure to utilise "massive" funds provided by the Centre for welfare schemes and expressed grave concern over "rampant" crime and corruption in the state.
"The people of Uttar Pradesh are being compelled to live in the midst of deteriorating law and order and rising corruption. People are not feeling safe and secure and are facing enormous difficulties because of the corrupt government machinery," she said.
Gandhi was addressing a rally organised here as part of the celebrations for 125 years of the party's establishment.
Without naming Mayawati or her Bahujan Samaj Party, she said for Congress, "Politics was a medium to serve the people. Because of this approach, massive funds have been provided to Uttar Pradesh by the UPA government."
"However, the state government does not seem to have the will to utilise the billions of rupees allocated by the Centre for improving the living conditions of its own people. Even basic facilities like drinking water are not adequately available. How can UP, in such a situation, keep pace with the rest of the country which is progressing rapidly," she asked.
Her criticism of the state government comes at a time when the ruling BSP is preparing for the Assembly election due in early 2012.
Reminding Congress workers of their "tremendous responsibility," she asked them to get in touch with people, apprise them of the schemes that are in place and see to it that the programmes are being properly implemented.
"Workers of our party need to work hard and drive home the point that the Congress is always eager to take up the problems affecting the common man. Hence, they must also closely monitor implementation of the welfare schemes in place and strengthen the party's bond with public," Gandhi said.  PTI