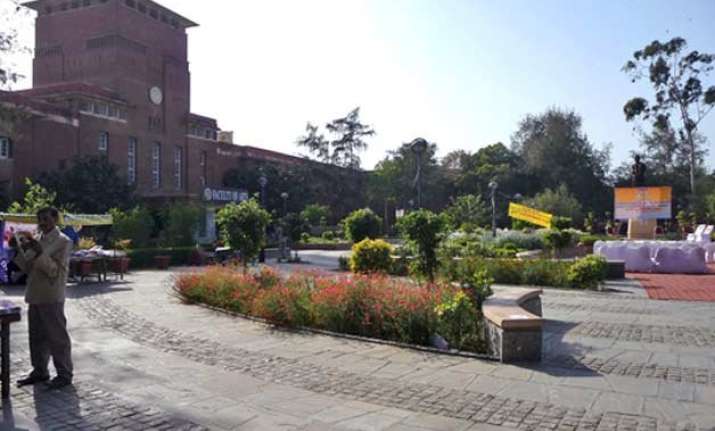 New Delhi: Underprivileged yet talented students from classes V to IX of 90 MCD and NDMC schools here will be nurtured by Delhi University under a special campaign to ensure holistic learning for them.
'Gifted Education Mahaabhiyan', involving a funding of Rs 1.8 crore by the government's Department of Science and Technology through Principal Scientific Advisor office, is being run by DU's Cluster Innovation Centre (CIC).
"We conducted a test in 90 MCD and NDMC schools and have selected 76 students who belong to underprivileged community but are 'gifted' and have exceptional talent. We will now nurture them and run various workshops and counselling programmes to ensure holistic learning for them," CIC Director Madan Chaturvedi said.
Delhi University has also conducted similar programmes in Guwahati, Ujjain and Baroda though they were not limited to underprivileged children and had students from private schools.
"After the selection, parents of the students will be called for counselling and then a team of experts including faculty and students of MSc Maths Education programme will chalk out modules for them," Chaturvedi said.
"The modules will run for six weeks and will include certain workshops, self-help tasks, counselling sessions and much more," he added.
The programme will be conducted in consultation with the NDMC and MCD schools to ensure that the sessions are conducted on holidays and do not hamper their regular studies.
"The programme is completely free for students and we will also provide pick and drop to the selected students. Our sole motive is to nurture them beyond their routine academic studies and not put any extra burden on them," he elaborated.
The varsity has plans to take the 'Mahaabhiyan' to a national level.
"We plan to take this to national level and conduct such programmes across the country. There are innumerable gifted children studying in our schools but we need to pay them extra attention to ensure that they become better professionals and policy makers in future," Chaturvedi said. Jyoti Sharma, a faculty associated with the project,
said, "The modules have been prepared after elaborate consultations with experts. Special attention will be paid to each student and discussions will be held with their parents to enable us to cater to their individual needs."
After completion of the six-week orientation modules, CIC will conduct another test for filtering the students based on their performances and the process will go on for a year.
"The team of students and faculty conducting the programme has been imparted special training for dealing with the students and nurturing them. Also, question papers for test conducted have been prepared by experts to ensure that the students selected are exceptionally talented and have the potential to make the best use of the training sessions," Jyoti added.