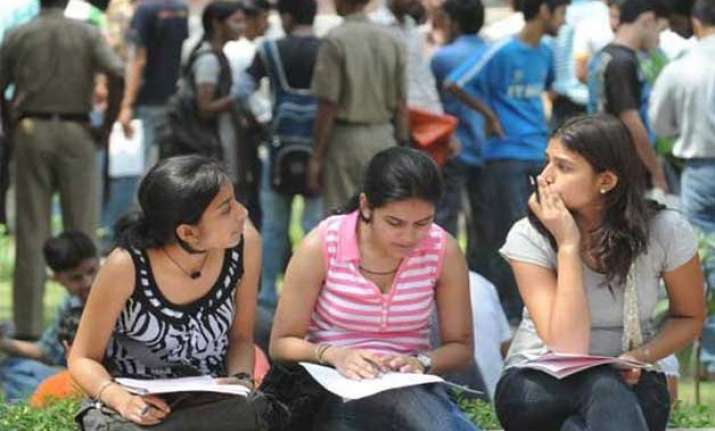 New Delhi: Delhi University aspirants have reasons to cheer as admission to popular courses such as B Com and Economics Honors are still up for grabs in the third cut-off list announced by the varsity on Friday.
Four colleges including Janki Devi Memorial College, SGND Khalsa, SGTB Khalsa and Sri Guru Gobind Singh College of Commerce, did not release the third-cut off list in view of a Delhi High Court decision granting them minority status.
Sri Ram College Of Commerce has announced its cut-off for admissions in Economics (H) at 97.375% making a dip of 0.375% from 97.75%.
They have written to DU authorities saying as per the directive from Delhi Sikh Gurudwara Management Committee, they need time to workout the cut-offs and admission guidelines keeping in mind legality and implications of the reservations to minority students.
Daulat Ram college has kept its cut-off at 95.5 pc for Eco (H), 94 pc for English (H) and 95 pc for B.Com.
Ramjas has announced its cut-off with a drop of 0.5% for B.Com (H) at 96.25% and English (H) with a drop of 1.5% at 95.5%.
College of Vocational Studies and Indraprastha college of women which had announced 100 per cent cut offs for admission to Computer Science Honors have reduced the required percentage to 92.5 and 95 respectively.
On the other hand, Gargi College has made a major dip of 2.25% in English (H) announcing its cut-off at 94% this time.
All courses are open at Hindu college with the cut-offs for BA Programme, Economics (H), English (H), History (H), Political Science (H) and B.Com (H) at 95, 97,96.5, 96 and 97 per cent respectively.
According to the university guidelines, the students need to complete admission formalities till July 7.
The next cut-off list will be announced on July 9.
The petition, also signed by a DU alumni - Thufail, has termed as "highly discriminatory" that three DU colleges, following the same system, calculated Ahammad's marks "in a totally different manner".
It states that while Ahammad got 100 per cent marks in Physics, Chemistry and Maths (PCM) subjects, at Hindu College he was told that his PCM percentage will be 93.33 per cent after evaluation and Hansraj College informed him that his PCM will be 92.23 per cent as per their calculation.
"There is complete violation of the principles of natural justice and the admission guidelines have not been followed by the respondents No. 3 (Hindu) and 4 (Hansraj)," the plea said.
It said that in Kerala Board exams, teachers from other schools, selected by the education department, conduct the practical test and give marks in secret.
"This is not a part of the continuous evaluation. There is a separate system of continuous evaluation and segregated 20 per cent marks for the same. ...The practical exam cannot be taken as similar to internal assessment as the internal assessment is done by the same school, whereas the practical exam is conducted as a part of the Board examination." it said.
The petition sought directions to DU and its colleges to "consider 80 per cent of the total marks for theory component, including practical, and not to deduct any marks in the name of continuous assessment in the case of students who have passed out from Kerala Higher Secondary Board".
It has sought directions to Kerala government "to issue necessary clarification" to DU with regard to the examination pattern and the awarding of marks to students of Kerala Higher Secondary Board and protect their interests.
The petitioners, Ahammad and Thufail, have also alleged that "serious complaints", including exercise of regional bias by those in charge of admissions, have been received from various students now seeking admission in Delhi University.
They have also said that some colleges, like Kirori Mal, were not entertaining students who are coming with attested copies of mark sheet from the school and being denied admission because the original one was not produced.
"The issue is that the Kerala State has not issued the original mark sheets and so denying the admission to the students merely on this ground will be an injustice to them," they said.