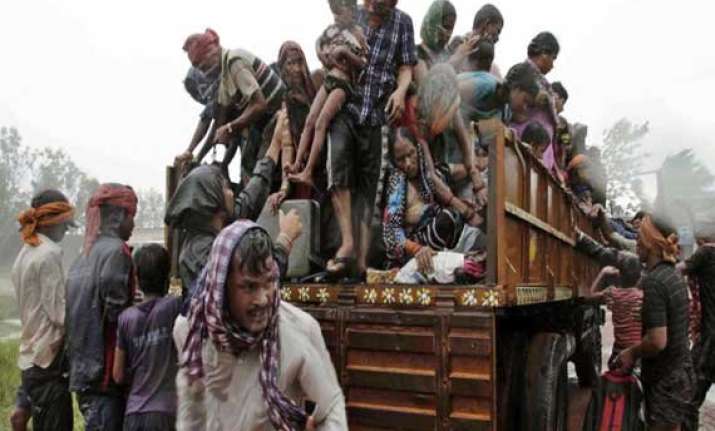 Rajahmundry (AP) Andhra Pradesh Deputy Chief Minister N Chinarajappa said today that nearly 90,000 people have been shifted to relief camps in four cyclone Hudhud-hit districts.
Chinarajappa, from the cyclone control room set up at the Kakinada collectorate said that so far, 90,000 people from Visakhapatnam, Vizianagaram, Srikakulam and East Godavari districts have been moved to relief camps.
"As many as 320 villages in 44 mandals of Srikakulam, Visakhapatnam, Vizinagaram and East Godavari districts are affected by cyclone. Food, drinking water and other facilities are being provided at the relief camps," he said.
Irrigation, revenue, police and fire officials are monitoring the flood situation and taking all necessary precautions, Chinarajappa said, adding the cyclone storm was nearly 100 kms away from Kakinada.
With the influence of the cyclonic storm, wind will blow at a speed of 180 kmph, he said.
"As many as 19 National Disaster Response Force (NDRF) teams are undertaking relief and rehabilitation steps. Besides, four teams of navy and army have been kept ready. All steps are being taken to prevent human and property loss in the district," he added.
East Godavari district collector Neetu Prasad, who was also present at the control room, along with the minister said that 30,285 people from the East Godavari have been shifted to 60 relief camps.
Meanwhile, Rampachodavaram Sub-collector, Integrated
Tribal Officer Gandham Chandrudu visited the relief camps at Thondagi mandal in East Godavari and took a stock of the facilities provided in the relief camps.
He also visited the cyclone-affected villages in the mandal and said that all measures are being taken to prevent loss of life and property.
Briefing on the situation in Rajahmundry, district sub-collector V Vijayakumar Rao said today that it is raining since late last night but there is no problem in any part of the district.
"We are fully prepared and administration is kept on alert in view of cyclone threat in the district," he said.