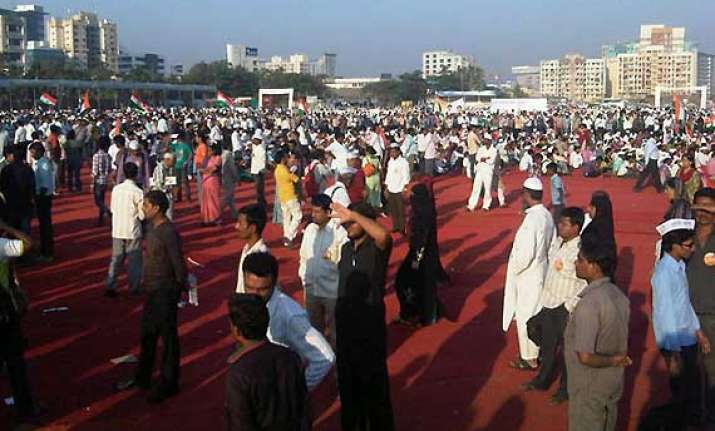 Mumbai, June 7: The crowd of supporters for Anna Hazare appears  to be dwindling by the day. On Sunday,only 400 supporters urned up at Azad Maidan, when Anna Hazare and  Baba Ramdev were sitting on a dharna in New Delhi.
On Tuesday,at a protest meet at Kamgar Maidan in Parel, where Hazare was present ,the numbers barely touched 1,000, reports Mumbai Mirror.
On Wednesday,at a meeting called by Hazare in Navi Mumbai,no more than 500 people turned up.
Only in August last year, more than a lakh people took part in the march against corruption from Juhu and Bandra.
The newspaper says, Anna's campaign on Jan Lokpal Bill seems to be fizzling out.
Former Karnataka Lokayukta and a leading member of Team Anna e Santosh Hegde attributes the dwindling crowds to the "fatigue factor".
"The multiple protests may not have been strategically right, but this perception of less numbers will give rise to larger demonstrations later.
"I'm not worried. It is already clear that the government will not face the next elections without passing the Lokpal Bill. It may not be a strong Lokpal, but they will not go to elections without one", says Hegde.
Social commentator and author Santosh Desai believes the Anna Hazare movement is in danger of hurtling into extinction because his group has lost its focus by raising its voice on myriad issues rather than concentrating on the core demand for a strong Lokpal.
"There are scattered decisions within the team and, assuming he is the key, he should be able to put an end to such decisions.
"Instead of focusing on one thing, his movement is all over the place.
"The underlying anger that the middle class has is not going away.But ability to convert that is coming under cloud,"Desai told Mumbai Mirror.
The newspaper says, there has been a disconnect between Team Anna and the volunteers.  The volunteers, at one time,  used to swear by him and were ready to go to any lengths, but after two-day fast at MMRDA ground in December last year, there has been a certain distance between Anna and the volunteers.
"For almost three months,we were not given any clear explanation as to why the fast ended so quickly.
"Moreover, Anna called off the entire movement, including the jail bharo andolan.
"We had been ready to spend New Years' Eve in jail for him. But there were no answers,"said a senior volunteer from Mumbai.
"It was only in March that any reasons were given directly to us, that too via a conference call with the core group.
Anna's closest allies from India Against Corruption (IAC), which has approximately 11 lakh members on their Mumbai database, are now raising questions about why they have been excluded from his latest movement for a strong Lokayukta in the state
In a letter sent to Anna's core committee,the IAC has complained about not being taken into confidence.
"Countless IAC volunteers across Maharashtra have been left humiliated trying to explain to their families and friends why Anna,for whom we spent so much time and energy,has abandoned them,"says the letter.
The Lokayukta campaign is being handled by Anna's own Bhrashtachar Virodhi Jan Andolan (BVJA), whose Mumbai chapter was dissolved recently on allegations of corruption against some of its office-bearers.
Secondly, Hazare's supporters in the city  say they are getting confusing signals. At one moment,they say, Hazare  supports the core team of Bhushan,Kejriwal and Bedi,and at the next moment he's seen siding with Baba Ramdev,who had openly snubbed Kejriwal.
"On Wednesday,Ramdev was photographed with Sharad Pawar,against whom Anna has agitated so many times over the years.It's hard to decipher what is going on,"a volunteer said.