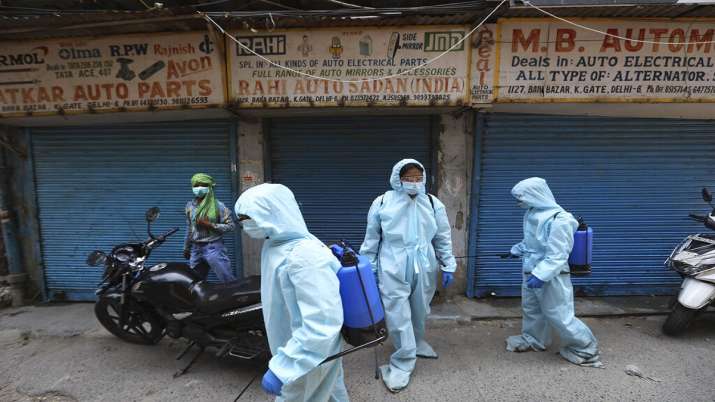 Coronavirus cases in India have crossed 1.1 lakh mark taking positive patients toll at 1,12,359 including 3,435 deaths and 45,300 have recovered, according to Health Ministry's figures released on Thursday. The nation is under third extended phase of lockdown, however, in the current phase, several relaxations have been provided in green and orange zones across the country while some restrictions are still continuing in red and containment zones in order to combat the spread of virus.
Railways which earlier started shramik (for migrants, labourers) and special AC trains have now announced to resume services of 200 more trains from June 1 onwards while flight operations will also resume services from May 25, as government tries to restart public transport services slowly moving towards returning life back to normal.
Though markets, economic activities are reopening in phased manner in the country, the rising number of coronavirus cases and also doubling rate is a matter of concern. On Wednesday, India coronavirus cases toll stood at 1,06,750 including 3,303 deaths while 42,298 recovered.
State-wise list of coronavirus cases, deaths in India
| Name of State / UT | Total Confirmed cases* | Cured | Deaths** |
| --- | --- | --- | --- |
| Andaman and Nicobar Islands | 33 | 33 | 0 |
| Andhra Pradesh | 2602 | 1640 | 53 |
| Arunachal Pradesh | 1 | 1 | 0 |
| Assam | 170 | 48 | 4 |
| Bihar | 1674 | 571 | 10 |
| Chandigarh | 202 | 57 | 3 |
| Chhattisgarh | 115 | 59 | 0 |
| Dadar Nagar Haveli | 1 | 0 | 0 |
| Delhi | 11088 | 5192 | 176 |
| Goa | 50 | 7 | 0 |
| Gujarat | 12537 | 5219 | 749 |
| Haryana | 993 | 648 | 14 |
| Himachal Pradesh | 110 | 54 | 3 |
| Jammu and Kashmir | 1390 | 678 | 18 |
| Jharkhand | 231 | 127 | 3 |
| Karnataka | 1462 | 556 | 41 |
| Kerala | 666 | 502 | 4 |
| Ladakh | 44 | 43 | 0 |
| Madhya Pradesh | 5735 | 2733 | 267 |
| Maharashtra | 39297 | 10318 | 1390 |
| Manipur | 25 | 2 | 0 |
| Meghalaya | 14 | 12 | 1 |
| Mizoram | 1 | 1 | 0 |
| Odisha | 1052 | 307 | 6 |
| Puducherry | 18 | 9 | 0# |
| Punjab | 2005 | 1794 | 38 |
| Rajasthan | 6015 | 3404 | 147 |
| Tamil Nadu | 13191 | 5882 | 87 |
| Telengana | 1661 | 1015 | 40 |
| Tripura | 173 | 133 | 0 |
| Uttarakhand | 122 | 53 | 1 |
| Uttar Pradesh | 5175 | 3066 | 127 |
| West Bengal | 3103 | 1136 | 253 |
| Cases being reassigned to states | 1403 |   |   |
| Total# | 112359 | 45300 | 3435 |
ALSO READ | Rely on India for manufacturing high-quality coronavirus vaccine: WHO | Exclusive
ALSO READ | Worldwide coronavirus cases cross 5 million mark; death toll at 329,719
​