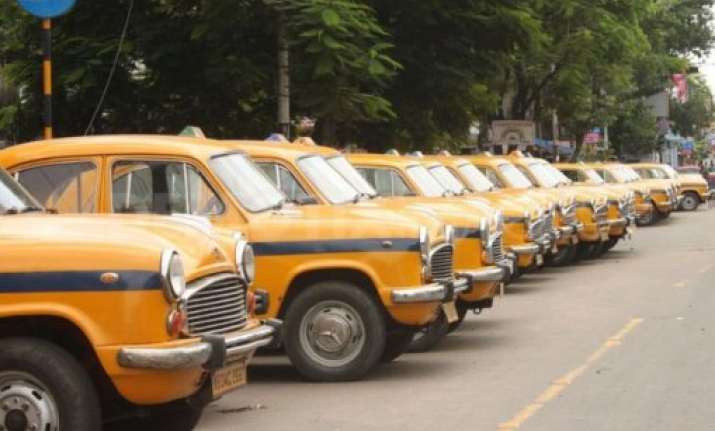 Kolkata: Commuters were left in a lurch again on Friday with trade unions calling a 24-hour taxi strike - the ninth since August - to press for a fare hike and to protest "police excesses". Unions have hinted at another strike Jan 6.
Commuters were stranded and harried as taxis stayed off the roads again following the Centre of Indian Trade Unions (CITU) and All India Trade Union Congress (AITUC)-sponsored strike.
CITU leader and former minister Anadi Sahu said that as many as 50,000 cabs were pulled off the streets in the districts of Howrah, Hooghly, and South and North 24 Parganas in addition to Kolkata.
"Our demands include a revised fare structure and stopping police torture on our drivers," Sahu told IANS.
ACITU volunteers took out a protest march during the day to the state secretariat at Nabanna in Howrah and submitted a memorandum, which was received by Chief Minister Mamata Banerjee's officials.
Meanwhile, the AITUC held a separate march from its office to the Y-channel area in the central hub of the city.
According to AITUC general secretary Nawal Kishore Srivastav, the march is a protest against alleged police atrocities on cab drivers.
"We will submit a memorandum at Nabanna tomorrow (Saturday). If our demands are not met, we will organise another taxi strike and march upto the Kolkata Police headquarters in Lalbazar Jan 6 next year," he said.
Due to the rally in the arterial stretch of the city, traffic was thrown out of gear.
Across the city, long queues were seen in front of auto-rickshaw and cycle-rickshaw stands while buses plied at full capacity.
Private car operators made a killing as travellers and tourists had no option but to pay hefty fares even for small distances.
The Bengal Taxi Association also participated in the strike.
Taxi drivers have pulled out their vehicles off the city roads on eight earlier occasions by calling wildcat strikes or protest walks as part of their stir against alleged police excesses.
At the centre of the dispute is the government decision to increase the fine for passenger refusal from Rs.100 to Rs.3,000 to combat repeated complaints of refusals.
The government in August arrested 22 drivers for vandalism as they damaged taxis which did not heed their call for strike and continued plying. They were released on bail after spending four days in jail.
Around 37,000 taxis ply in the city.