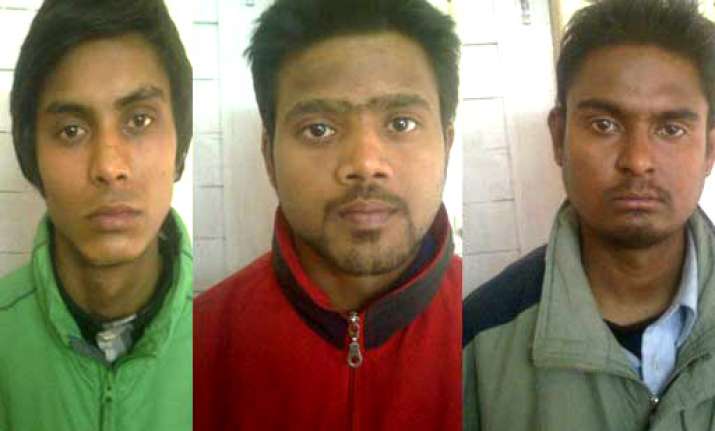 New Delhi, Feb 8: A 16-year-old student hailing from Kerala was raped allegedly by three men, including one who is her "friend and neighbour", police said on Monday.
The Class XI student of a school in Chanakyapuri who resides in south Delhi's R K Puram area, was sexually assaulted by the trio on February two, a senior police
official said.
Mohit Pal, the neighbour of the girl, and his two friends Sharad Kumar and Amit, all in their early 20s, were arrested yesterday following investigations into a complaint filed by her parents on February three.
Mohit and Amit live in government quarters in R K Puram Sector VI and work in hotels. Mohit is the son of a government employee.
"Mohit leads a lavish life and used to ride sporty motorcycles. They were friends and used to meet," the official said.
On February two, after her school hours, Mohit allegedly took her to a restaurant for lunch. After that he took her to his friend Sharad's rented accommodation in
Mohammadpur, saying he wants to talk to her.
"After reaching there, he called his friends. They took turns to rape the girl. They threatened her with dire consequences if she told anyone about the matter," the
official said.Initially, she did not tell anyone about the incident.But on February three, she told her parents about the incident. The parents then approached police who took her to a hospital where a medical examination confirmed rape.
Delhi has witnessed a sharp increase in rape and molestation cases last year since 2007.In 2010, the city witnessed 489 rape incidents, including the infamous Dhaula Kuan and Mongolpuri rape cases, as against 459 in 2009.
2006 witnessed 609 rape cases followed by a drop to 581 next year, while in 2008 it further dipped to 466.Molestation cases showed an increase to 585 in 2010 from
532 in 2009. While 2008 had 597 such cases, there were 835 incidents in 2007 and 713 in 2006.
In over 90 per cent of such cases, the accused were known to victims.In 46 per cent of the rape cases reported last year, the accused were relatives or friends while 45 per cent were neighbours. PTI