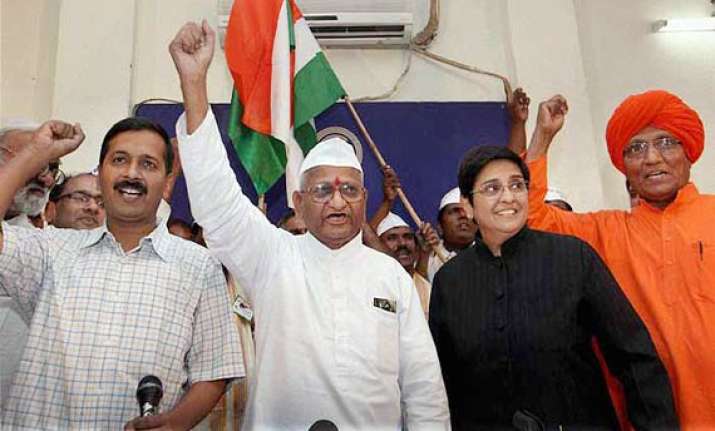 New Delhi, Apr 15: Gandhian Anna Hazare today declared his assets which consisted of 2.53 hectares of land in Maharashtra, a bank balance of Rs 67,188 and cash of Rs 1,500 only.

Anna's associate Arvind Kejriwal also declared his assets on Friday. Kejriwal said, the assets of members of the civil society in the Joint drafting committee on Lokpal Bill will be posted on the Jan Lokpal Bill website by Monday.

Kejriwal appealed to members of the public to post their views on the Jan Lokpal Bill website. He also demanded video recording of the proceedings of the Joint Drafting Committee.

About the funds received for Anna Hazare's anti-corruption campaign, he said that so far 2,973 persons have given donations for the campaign.

Refuting the allegations of corruption by Congress leader, Digvijay Singh, Arvind Kejriwal, member of Jan Lokpal Bill drafting committee, declared that the movement has a total of Rs 82 lakhs in its kitty, all coming through donations from the general public.
 
Outrightly rejecting  Digvijay's charge that he was a 'chela' (disciple) of Aruna Roy, Kejriwal hit back saying, "I respect Aruna Ji. I respect Anna Ji. But it is wrong to say that I am a 'chela'. I have a mind of my own".

He further justified his inclusion in the drafting committee by clarifying that he was a part of the original team that wrote the first draft of the Jan Lokpal Bill and is aware of the nuances and intricacies.


Another member of the committee  activist Prashant Bhushan also slammed Digvijay Singh  for making false statements, and said, "There is an organised campaign against me and my father."

He informed, "I have filed an FIR in connection with the false reports against my father."
 
It should be noted that there are five members of the civil society in the Lokpal Bill panel, namely Anna Hazare, Shanti Bhushan, Santosh Hegde, Prashant Bhushan and Arvind Kejriwal.