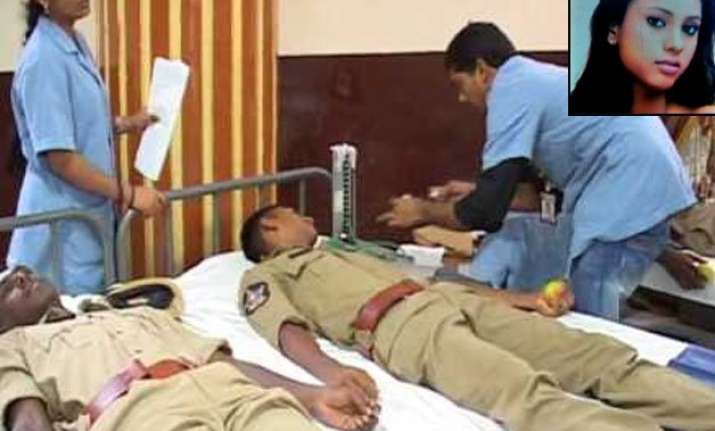 It's not always that we get to hear stories of policemen who have helped civilians. Often we hear about them being portrayed in bad light. However, a recent incident stood much averse to this fact when six Delhi policemen agreed to donate blood to a severely injured model.
The 21-year-old was shot by her enraged husband after he found her chatting online with a male friend. The husband, Prince (24) was caught by the cops within two days of the occurrence of the incident.
To convey this information, the Station House Officer (SHO) of the area where the incident occurred, went to AIIMS where Neha was admitted.
When the officer, Inspector OP Lekhwal, went there, he realized Neha's care-taker, her father Pradeep Kumar Mishra was not happy to hear the news. This caused a suspicion in Lekhwal's mind. On inquiring the reason, he got to know that the distressed man, who hails from Kolkata was actually upset because he was not able to arrange blood donors for her ailing daughter.
It was then when Lekhwal appeared as an angel in disguise for the father. Not only he agreed to donate blood to Neha but also assured Mishra that he would arrange the required number of donors too.
He discussed the entire matter with his staff who readily agreed to help the needy father-daughter duo.
In no time, he had five others from the police station volunteering to provide the required help. The ones who stood up were officers of varied ranks from the same police station - Sub-inspector Lalit, Head constable Vipin Sangwan and constables Gopal, Vinod and Ranbir.
All of them donated blood to Neha as per the treatment's requirement.
This brought tears in Mishra's eyes who found words less to state his gratefulness for the six men of distinct valour. He said, "These policemen saved my daughter's life. They not only arrested the accused within 24 hours, but also set an example with this gesture."
As is learnt, it is not the first time that these cops took such an initiative. Sangwan had donated blood earlier also. Six months before, he had donated blood to a labourer and twice before also.
With the good deed, they have set an example for the rest that police is capable to fulfil moral duties of society as well.