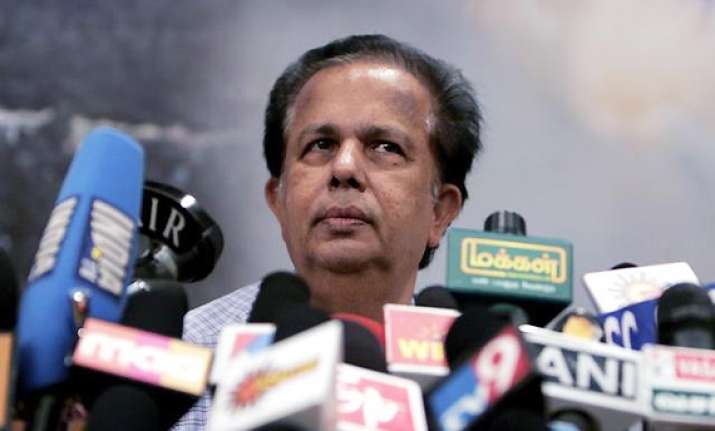 Bangalore, Jan 25: Bitter over the action taken against him and three other eminent space scientists on the controversial Antrix-Devas deal issue, former ISRO chairman Madhavan Nair today slammed it as "an act of cowardice" and accused his successor K Radhakrishnan of being behind the move and "misleading" the government.

He also accused Radhakrishnan of having a "personal agenda.

"He has misled the Government on the whole issue (the deal). He is the key person who worked behind this; he misled and miscommunicated to the Government and he has taken action," Nair said, targeting Radhakrishnan, secretary in the Department of Space and Chairman of the Space Commission.

"That individual is bent upon hitting so many people and in that process, he is killing the organisation," he alleged.

"This (the action) is a complete act of cowardice," Nair said. It was a "clear violation of conduct and pension rules" as well as legal aspects, said Nair, who was the key figure behind India's Chandrayaan-1 moon mission.

"Even the person who has done the terror attack in Mumbai....he is enjoying the freedom of going to 3-4 levels of appeal. Are we worse than terrorists?", he asked.

"Even in a military rule, the people are given a hearing before condemnation is made. This (the action against us) is worse than that," said Nair, hurt over the action to bar him and three other scientists from holding any government post.

The government action came in the wake of the controversial Antrix-Devas deal in which a private company was allotted scarce S band spectrum by ISRO allegedly violating rules, when Nair was the agency's chairman.

Nair said he has not received any communication on barring him from government jobs and would apply under the RTI to get it and based on that, he would chalk out his plan of action. "...Whole thing has been handled in an absolutely shabby way".

"There is no enquiry conducted in the matter; there is no charge sheet issued to anybody. Without that, how can any government take punitive action?", he asked.

Nair said seven people -- three administrative and four technical -- have been named (by a committee and team which probed ISRO-Devas deal) and asked: "Why administrative people have been totally left out?

"First of all, I don't subscribe to the view that it (the deal) is an issue," Nair said. The only issue is that ISRO should have informed the Government that it's entering into a deal with Devas but according to the existing rules at the time, ISRO was not supposed to do that, he said.

"It's not a violation of rules (vis-a-vis not informing the Government beforehand). "..How they have singled out only scientists?. It's a shameful thing".

He claimed that Radhakrishnan has no idea of rules or regulation about technology and "he will simply kill ISRO".

Calling Radhakrishnan "a disaster," he said, "I have kept quiet all these days because of my respect for ISRO". "You look at ISRO's programme for the last two years, that will speak volumes about where we stand".

On the regional transport aircraft project, in which he is chairman of the high-powered committee constituted by CSIR-NAL spearheading it, Nair said he submitted feasibility and project report within a year.

"I just don't care if the government is so casual in dealing with such a matter (action against the four). I just don't care. For this government, I am not going to do anything further. It's their funeral they have declared. Let the Government worry about it (the project); not me," Nair said.