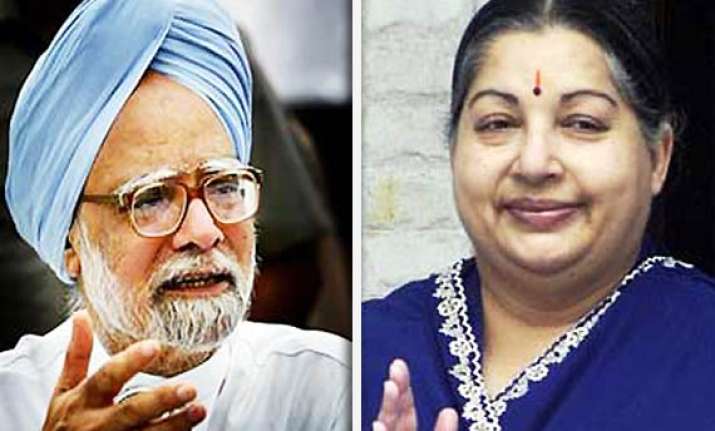 Chennai, Nov 30: Voicing concern over reports of vandalism on the Mullaperiyar issue, Tamil Nadu Chief Minister Jayalalithaa  on Tuesday asked Prime Minister Manmohan Singh to advise Kerala not to "precipitate matters" in the interest of both the states.

In her second letter to Singh on the issue in the past one week, she reiterated Tamil Nadu's stand that retrofitted Mullaiperiyar Dam was safe and Kerala should be advised to desist from this approach for building a new dam. 

She also asked the PM to advise Kerala not to escalate the issue as the matter remains sub-judice before the Supreme Court and the Empowered Committee. 

Jayalalithaa noted that there were reports of vandalism against Tamil Nadu State Transport buses, "apart from mischievous and vicious provocation across the state border being indiscriminately indulged in, have come to my notice."

"While a lot of restraint from our side is being exercised, it would be prudent to advise the Government of Kerala to ensure that miscreants refrain from disturbing the public order and disrupting normal life," she said seeking an immediate response from the Prime Minister. 

In the letter, a copy of which was released to media here tonight, Jayalalithaa said it had been reported that the Kerala government continued its "shrill pitch" and maintained that the century-old dam was not safe, and that the only solution would be to construct a new dam in spite of the pending suit in Supreme Court.

"In the circumstances, as already requested in my earlier letter dated 23.11.2011, may I once again request you to advise the Government of Kerala not to precipitate matters in the interest of both the States? I look forward to your immediate response in this matter," Jayalalithaa said. 

Jayalalithaa's missive came on a day when Singh met four delegations from Tamil Nadu and Kerala, indicating that a meeting of Chief Ministers of both states would be convened soon to find an amicable solution to the issue. 

MPs from Tamil Nadu and Central and state ministers from Kerala sought the Prime Minister's immediate intervention as political parties and voluntary groups in Kerala intensified protests on the issue lobbying for the new dam.

Normal life was disrupted in four vulnerable districts, including Idukki, where the 116-year-old dam is located, as BJP and Kerala Congress (M) separately called for a dawn-to-dusk hartal.

In her November 23 letter, Jayalalithaa had urged the Prime Minister to advise Kerala not to whip up fear among its people for political mileage and said the dam is "safe and as good as new".