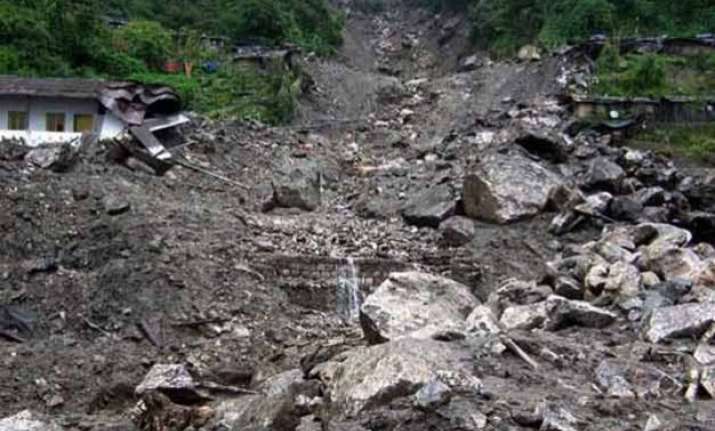 New Delhi: At least nine persons were killed in incessant rains that swept across vast swathes of North India on Sunday triggering landslides and damaging houses in Jammu and Kashmir, Himachal Pradesh, Uttarakhand and UPwhile several rivers were also flowing close to the danger mark. 
While six persons were killed in house collapse in Uttar Pradesh, two died after being hit by a landslide in Kashmir. 
In Uttarakhand capital Dehradun, a construction worker died and three others were injured after a restaurant collapsed due to rains. 
The national capital seemingly came to a standstill as rains continued unabated for the fourth day running today. 
Waterlogging was witnessed in several parts of Delhi, submerging many low-lying areas and leading to traffic snarls. 
Several busy areas including ITO, Vikas Marg, South Extension, Khanpur, Mahipalpur, Hari Nagar, IIT crossing, Nehru Place, Yusuf Sarai Market and Munirka witnessed traffic jams. 
Safdarjung observatory received 68.6 mm rainfall in the last 24 hours till 8.30 AM while areas under Lodhi road, Ayanagar, Ridge and Palam recorded 78.2 mm, 77.4 mm, 76.2 mm and 98.4 mm rain. 
Till Saturday, Delhi received 147.8 mm rainfall, the highest this season. In some low-lying areas, rainwater flooded the basements of flats and residents had a harrowing time. 
In UP's Sitapur district, three persons, including a minor, were killed in two separate incidents of wall collapse. 
Two persons were killed in Badaun and one died in Bareilly in separate incidents of house collapse. 
In Jammu and Kashmir's Pahalgam district, two persons died after being hit by a landslide. 
The pilgrimage to the cave shrine of Amarnath in south Kashmir Himalayas was today suspended from both the routes due to inclement weather which also led to the closure of the vital Srinagar-Jammu National Highway. 
"The yatra has been suspended from both Baltal and Pahalgam routes due to rains which made the track slippery," police said.