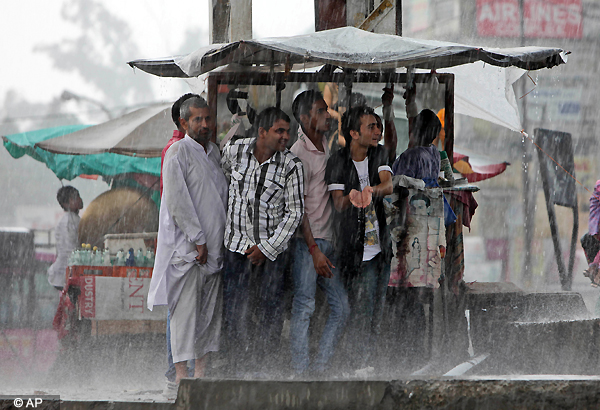 New Delhi, Aug 26: Five people were swept away in flash floods, triggered by heavy rains, in Himachal Pradesh and Jammu and Kashmir as the monsoon today continued to hold sway in many parts of the country's northern plains.




Three persons were killed in rain-related incidents in Jammu division.

A middle-aged man was swept away in a flashflood in a river in Khokyal area in Kathua district, while a teenager was washed away in a flash flood in Arnia belt in Jammu district.

A 6-year-old boy was killed when a mud house collapsed in Kathua district's Hatli belt.

In Himachal Pradesh, two persons were swept away by swirling waters of swollen Chakki Khad while a cloudburst in Kangra district damaged over dozen houses, washed away cowsheds in Sadma village and damaged a primary school building in Lunj village.

Several inter-district roads in the state have been blocked for vehicular traffic due to the landslides triggered by the downpour.

Amb in Una district was wettest in the state with 66 mm rains, followed by Kasauli at 51 mm rains and Una 50 mm.

The state capital Shimla received 31 mm rains, leading to a drop in temperature.

The national capital received 24.6 mm of rains and the maximum temperature settled at 32.9 degrees Celsius, one degree below the normal temperature.

The minimum temperature was recorded at 25 deg C, which was also one point below normal.

Humidity level hovered between 67 and 98 per cent.

In Uttar Pradesh, major rivers remained above the danger mark as the monsoon deluge continued in most parts of the state.