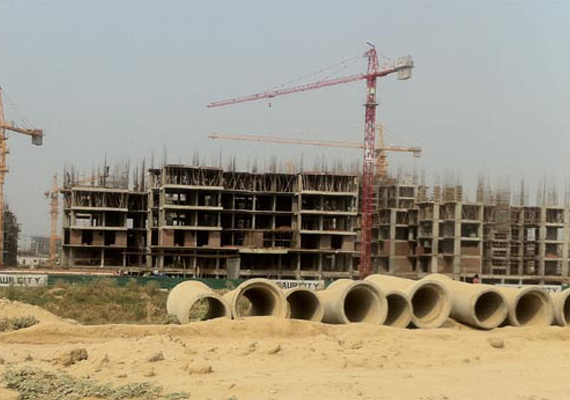 Noida, Aug 25:  Nearly Rs 15,000 crores invested by builders in Noida Extension building projects will not go waste as the NCR Planning Board on Friday  approved the revised draft of the Greater Noida Master Plan-2021.
This will definitely trigger a boost to the realty business in Noida and Greater Noida, experts believe.  
Of the 2.5 lakh flats sanctioned  in Noida Extension, 1.5 lakh flats have already been booked. So far buyers have shelled out nearly Rs 1,500 cr for booking the flats.  
Chaired by Urban Development Minister
Kamal Nath
, the NCR Planning Board gave the green light to the revised master plan.  
Late on Friday night, NCRPB communicated its order to UP housing secretary S N Shukla, which says that the draft Master Plan for Greater Noida-2021, in compliance with the Allahabad High Court order, has been "approved." 
It will, however, take some more time for builders to resume construction. A UP government official said: "The matter is in the Allahabad High Court, which will have to give the order for the work to resume We will submit an affidavit in the high court." 
In October last year, the Allahabad HC had ordered that work on Noida Extension projects cannot resume till the Greater Noida Master Plan was approved by the NCRPB.  
Nalini Jayaseelan, member-secretary, NCRPB, told the Hindustan Times: "We have approved the master plan subject to the condition that the Greater Noida Authority adhers to provisions for water supply, sewerage, drainage, power and solid waste management as recommended by the board." 
The 2.5 lakh residential flats in Noida Extension are to be built by nearly 25 builders.  Some 2,000 hectares of land were acquired by the Greater Noida authority in 11 villages, and this was challenged by farmers in the Allahabad high court.  
The authority acquired land from farmers at Rs 880 per sqm and sold it to private developers at Rs 12,000 sqm, who, in turn sold it to flatbuyers at a steep rate of  nearly Rs 3,500-Rs4,000 per sqft.  
In October 2011, the Allahabad high court ordered a hike n famers compensation by 64 per cent. It also asked the authority to incorporate the NCRPB's recommendations in its Master Plan 2021 before allowing any construction.  
With the approval by NCRPB on Friday, the way is now clear for the builders to resume construction of the flats.