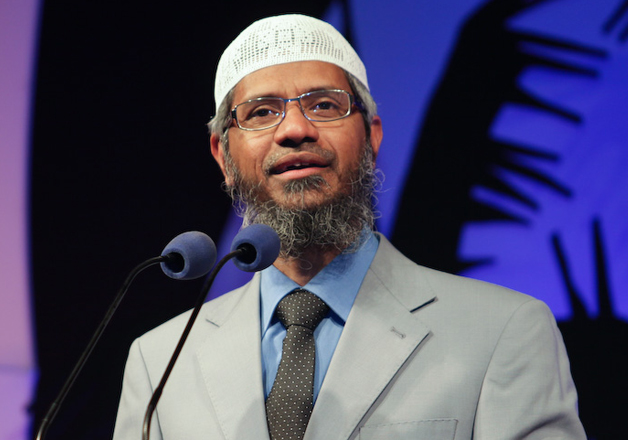 The arrest of two employees of controversial Islamic preacher Zakir Naik's foundation, Islamic Research Foundation (IRF), appears to have helped probe agencies make progress in their investigation.
In some crucial information that could result into tightening the noose around the world renowned preacher, a fresh revelation claims that those who converted to Islam at his lectures were paid Rs 50,000 each. The cops are now trying to ascertain if the funds were sourced out of the Mumbai-based IRF.
According to a report by Hindustan Times, citing officials of the Mumbai Police special branch, Naik and his IRF have converted around 800 people to Islam by paying them off using funds received from abroad.
The revelations were made during the questioning of IRF's guest relation officer Rizwan Khan, who along with Arshid Qureshi was arrested by the Maharashtra anti-terrorism squad (ATS) and Kerala Police during a joint operation last week.
A case under IPC Sections 120 B (criminal conspiracy) and 153 A (promoting enmity between groups) as well as under the Unlawful Activities Prevention Act (UAPA) was registered against the duo in Kochi.
Also, several documents seized from Rizwan show that many Christians and Hindus were forced to embrace Islam forcibly.
During the interrogation, police found that Rizwan was also working for an organisation known as Al-Birr Foundation at Mazagaon, allegedly a hub for conversions and marriages funded by IRF.
"After an initial indoctrination, (potential converts) would be taken to Arshid's Navi Mumbai office for further indoctrination. Later, they would be taken to a Dongri office where Rizwan would complete the documentation for their conversion," the HT report quoted a police officer as saying.
Investigators say that Rizwan, who is also a maulvi, had conducted marriages for couples among the converts.
"IRF gets funds from several countries, including Saudi Arabia, and these were used for such activities. Those converted would also get around Rs 50,000 in cash," the officer added.
If the alleged conversions are found to be done forcibly, Naik may further land in deep trouble.
Naik is already under the scanner of the Home ministry and several other probe agencies for delivering hate speeches and insulting other religions.
Rizwan and Arshid were arrested after a police complaint was registered by Ebin Abraham, brother of Kochi resident, Merin alias Mariyam, who along with her husband, is reported to be missing and alleged to have joined the ISIS at the behest of the IRF.
Ebin Jacob (25), the brother of Merin alias Mariam had told police that there was an attempt to forcibly convert him to Islam and induct him into the Islamic State.