Mumbai Rains Live Updates, weather forecast in India latest news: Rains disrupted weekend plans of Mumbaikars as roads and railway tracks were flooded due to extremely heavy rains on Saturday. There was waterlogging in surrounding cities like Thane and Navi Mumbai as well. India Meteorological Department has predicted that spells of intense rain are likely to continue on Sunday. Suburban train services were severely disrupted and flights were late.
However, the situation improved by the night.
Here are the highlights of how the situation unfolded
8:21 pm: Central Railway suburban corridor fully functional
The Public Relations Officer of Central Railways has said that operations on suburban corridors of Central Railways have been restored
7:00 pm - Do not visit waterfalls during monsoons, says Navi Mumbai Police
Bodies of two our of four girls drowned in Padavkada waterfalls have been recovered. The police have advised people to not visit such places during Monsoons
6:12 pm - Mumbaikars have got a temporary relief from rain as the drizzle has abated in some areas. But waterlogged streets in Mumbai and surrounding areas like Virar are yet to be cleared.
5:44 pm: Godavari river flows to Andhra Pradesh as well. NDRF teams have been deployed in Andhra to combat any imminent thread of flooding
Click here to read the full story
5:42 pm: Monsoon rains are lashing western and southern parts of India. In Maharshtra, waters of Godavari river have risen to an alarming level.
4:46 pm:
3:45 pm: Extremely heavy rains likely, says IMD
Troubles of Mumbaikars are likely to increase as India Meteorological Department has predicted extremely heavy rainfall in next 24 hours.
3:20 pm: Brihanmumbai Municipal Corporation (BMC) workers clean the garbage spewed by the sea at Marine Drive, as high tide hits Mumbai.
2:15 pm: Heavy rains start again in Vadodara. Though water has receded in Vishwamitri river, it is still flowing at its peak at 29ft.
2:05 pm: One person is reported to have died in the waterfall incident. 
2:00 pm: Four people have been swept away by a waterfall in Kharghar
1:36 pm: Water-logging at railway tracks in Thane.
12:22 pm: One person electrocuted in Thane. Another suffers injuries after the roof of a bakery caved in. 
12:15 pm: Water Logging at J B Nagar Andheri E
Complete water clogged at Kandivali E Stn Rd
Dahisar Highway near Check post conditions arose of Water Logging
Hindmata near Lower Parel
Striking at Samta Nagar water reached up to 6ft
Chincholi Port Rd. new link Rd 
12:07 pm:  Traffic moving slow due to heavy showers & water logging at following places
Adarsh Nagar Jn 
Santosh Nagar Goregaon
Bhandup Sonapur Jn Jama Masjid Lane 
Evershine Kandivali Rd 
Ghas Compound
Gumpha Road
Neelam Jn Govandi
Durga Nagar Jn
Marol Naka, Andheri E 
Anand Gad 
Lokamanya Tilak Visarjan Talao
Court Yard, Jn.
12:03 pm:  Traffic moving slow due to heavy showers & water logging at following places
Sardar Pratap Singh sankul Janta Mkt. Bhandup
Link Rd Inorbit & infinity Mall complete stretch
King circle
Kanjurmarg W & Gandhinagar
Janakalyan Nagar Malad W Water clogged at JVLR western Suburbs at Vikhroli Rd. Connecting WEH & EEH
Netaji Palkar chowk 
12:00 pm: Traffic moving slow due to heavy showers & water logging at following places - S V Rd Andheri Subway
Siddheshwar Mandir jetty near proposed sagari
S V Rd Behrambaug Jn has reached up to level of Knees
Water Logging at Hanuman Nagar  Kandivali E
11:47 am: Extremely heavy rain expected tomorrow: The India Meteorological Department (IMD) predicted an extremely heavy rain forecast for Mumbai on Sunday.
11:33 am: IMD issues red alert for Mumbai over weekend: The India Meteorological Department (IMD) has issued a red warning  for the city over August 3 and 4. 
11:15 am: Completely flooded! A social media user tweets image of an inundated ticketing area in Dombivli East 
11:00 am: Waterlogging in Mumbai as heavy rain inundates areas. 
10:42 am: Central Railway: The trains on trans-harbor & 4th corridor towards Kharkopar on Central Railway are running smoothly. However, due to intense rains, trains on main & harbor line are running at cautious speed, hence delayed.
10:00 am: Palghar Collector Kailash Shinde has issued orders that all schools & colleges in Palghar will remain closed today, in view of continuous rainfall in the area.
9:46 am: Indian Meteorological Department (IMD): Intense rainfall to continue in North Konkan areas including Mumbai, Navi Mumbai, Thane, & Palghar for the next 4-6 hours.
9:31 am: Landslide in Raigad near Poladpur on Mumbai-Goa highway, following incessant rainfall. Vehicular movement suspended on the route.
9:15 am: Waterlogging in Malad area of Mumbai due to incessant rainfall in the region.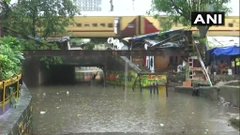 8:55 am: All government schools to remain closed in Thane today. Thane Municipal Corporation has issued the orders in view of continuous rainfall in the city.
8:37 am: India Meteorological Department, Mumbai: Mumbai and surrounding areas received widespread rainfall in last 24 hrs with heavy to very heavy rainfall at few places. Impact was more towards suburbs, Thane, Navi Mumbai areas. Satellite, radar indicates rainfall will continue.
8:34 am: Rain in Mumbai has caused severe water-logging.
8:12 am: Western Express Highway submerged in Mumbai.
8:00 am: The IMD's Santacruz weather station in suburbs recorded 43.4 mm rainfall in the last 24 hours ended 8.30 am on Friday. During the same period, the department's weather station at Colaba in South Mumbai recorded 21.2 mm rainfall.
7:36 am: Strong winds, speed reaching 40-50 kmph, are likely to prevail over north, central and southwest Arabian Sea; north & central Bay of Bengal and along & off Gujarat-Maharashtra-Goa coasts and Andhra Pradesh coast. Rough to very rough Sea conditions likely to prevail along and off West Bengal & Odisha coasts and Andaman & Nicobar coast. Fishermen are advised not to venture into these areas
7:35 am: Heavy to very heavy rainfall at isolated places very likely over West Madhya Pradesh, Vidarbha, Chhattisgarh, Uttarakhand and Odisha and heavy rainfall at isolated places over Coastal & North Interior Karnataka, Telangana, Gujarat region, East Madhya Pradesh, Himachal Pradesh, Punjab, Haryana, Chandigarh & Delhi, West Rajasthan and West Uttar Pradesh.
7:34 am: Heavy rainfall predicted at a few places with very heavy at isolated places over East Rajasthan.
7:30 am: Heavy to very heavy rain at a few places with extremely heavy falls predicted at isolated places very likely over Konkan & Goa; Heavy to very heavy with extremely heavy falls very likely at isolated places over Madhya Maharashtra
7:27 am: Extremely heavy rains predicted at isolated places in Palghar, Thane, Mumbai, Raigad, Satara, Hingoli, Nanded, Latur, Ratnagiri, Sindhudurg, Nandurbar, Jalgaon, Nasik, Pune, Kolhapur
7:10 am: A high tide will hit Mumbai at 1:41 pm today, which is likely to be season's highest tide at 4.95 metres, waves rising at 16 feet. Fishermen and people have been advised to exercise caution and not venture into the sea.
7:04 am: Among those hit by rains are Virar, Thane, Palghar, Nalasopara, Navi Mumbai, Malad, Santacruz 
7:00 am: It has been raining cats and dogs in Mumbai since last night. 
ALSO READ | Weather Updates of July 30
ALSO READ | Weather Updates of July 31