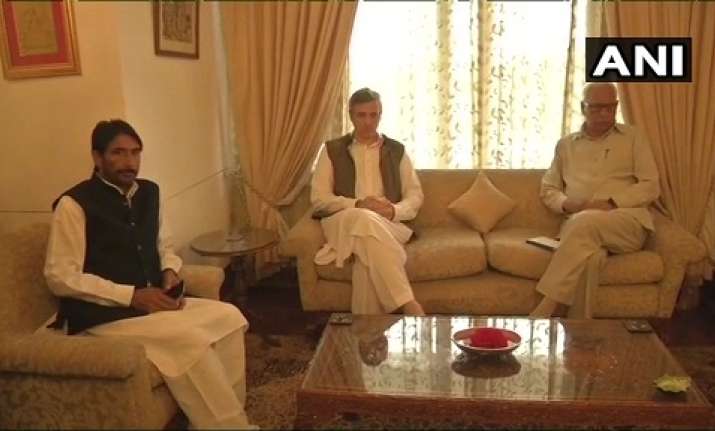 An all-party meet, convened by Jammu and Kashmir Governor N N Vohra to discuss the situation in the wake of the implementation of Governor's rule in the state, was held on Friday.
The meeting in which heads and representatives of various political parties in Jammu and Kashmir took place at the Raj Bhavan.
While National Conference (NC) vice-president Omar Abdullah represented his party, PDP was represented by its general secretary Dilawar Mir. 
All party meeting underway at #JammuAndKashmir Governor NN Vohra's residence in Srinagar. Former CM Omar Abdullah, J&K Congress Chief GA Mir, BJP's Sat Sharma also present. pic.twitter.com/4ep3Mn0HNd

— ANI (@ANI) June 22, 2018
Senior bureaucrats including Advisor to Governor B.B. Vyas, State Chief Secretary B.V.R. Subrahmanyam, state police chief SP Vaid were also present during the meeting.
State Congress chief told reporters that leaders of all parties assured the Governor full support to restore peace in the state, but asserted that efforts must be focused on holding early elections so that a democratic government takes office in the state.
The meeting also discussed the forthcoming Amarnath Yatra. Vohra apprised the leaders about the measures to ensure a hassle-free Yatra.
Independent MLA Engineer Rasheed has alleged that no invitation was sent to him to attend the all-party meeting.
A spokesman of Awami Ittehad Party (AIP) headed by Engineer Rasheed told reporters that not sending an invitation to Engineer Rashid had vindicated AIP's stand on various issues and also exposed the ill designs of New Delhi.
Former Chief Minister Mehbooba Mufti did not attend the meeting, but called on Vohra earlier on Friday and discussed important issues related to the growth and development of the state. 
An official spokesman that Mehbooba referred to certain important issues, relating to the growth and development of the state, which could not be finalised during her tenure and urged the governor to consider the same for early decisions. 
The governor discussed with the former chief minister the need for all political parties and social organisations to join hands to regain the trust of the youth and restore normalcy in the Valley, the spokesman said. 
Srinagar: Former CM of Jammu & Kashmir Mehbooba Mufti met the Governor of J&K NN Vohra at Raj Bhavan earlier today. pic.twitter.com/ktnLq6tFUy

— ANI (@ANI) June 22, 2018
This was the first meeting between the two since Mehbooba resigned as chief minister on Tuesday, after the BJP decided to pull out of its alliance with the PDP. 
Vohra yesterday called the meeting of all party heads, including the heads of the state units of the national parties, in Jammu and Kashmir to discuss the situation in the state arising out of the implementation of the Governor's rule after Mehbooba resigned following pull out of the BJP from the ruling coalition.
(With PTI inputs)