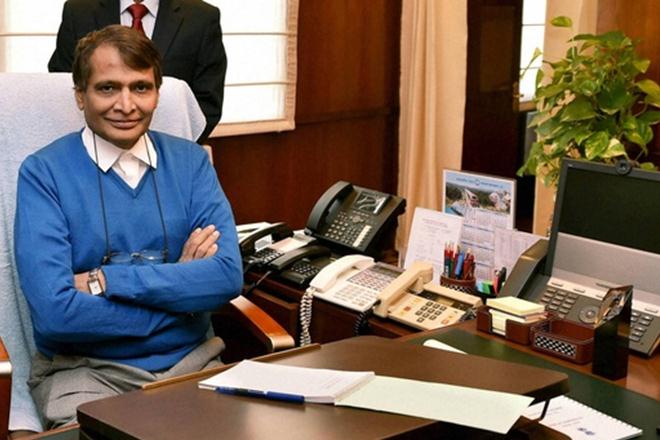 The Minister of Railways Suresh Prabhakar Prabhu today unveiled the Antyodaya Express, a long-distance, fully unreserved, superfast train service, for the common man to be operated on dense routes.
Ready to be pressed into service on busy routes, the first Antyodaya Express will be launched between Mumbai and Tatanagar, and the second will be between Ernakulam and Howrah shortly.
"We had announced in the Rail Budget that we would launch four new passenger services. First Humsafar was launched and now Antyodaya," Prabhu said after inspecting the new general class coaches with new colour scheme that are equipped with many facilities like water purifiers, mobile phone charging points and fire extinguishers.
"Antyodaya was meant for Aam Aadmi (common man). The facilities provided in Antyodaya coaches are similar in first class. Our government's focus is on Aam Aadmi so we launched the product with many facilities for them," he said.
2/ To improve comfort level of Common passengers exclusively,Antyodaya trains hv been announced in Railway Budget 2016 by MR @sureshpprabhu pic.twitter.com/Zzs5ErUBb5

— Ministry of Railways (@RailMinIndia) February 22, 2017
3/These coaches will hv facility for potable drinking water and higher
number of mobile charging points. #Promisesinmotion pic.twitter.com/HU7JdRmAHo

— Ministry of Railways (@RailMinIndia) February 22, 2017
12/ Fire extinguisher (5 kg dry powder type) with anti-theft lock - 2 nos provided per coach and
located near water dispenser at doorwa pic.twitter.com/cI4u8HBf0C

— Ministry of Railways (@RailMinIndia) February 22, 2017
16/Anti-injury features provided in all furnishings fittings,Amenity fittings made from stainless steelEmergency windows provided @2per side pic.twitter.com/LRgi3QQW7s

— Ministry of Railways (@RailMinIndia) February 22, 2017
Asked about the fare structure for Antyodaya Express, Prabhu said "It will be decided shortly." However, it is reliably learnt that the fare of the new unreserved train is likely to be higher than the Mail/Express fares.
The Antyodaya fare structure will be between 10 per cent to 15 per cent more than the regular fare, sources said.
Railways have maintained that manufacturing cost of these coaches with modern facilities is high, so there have to be special fares for these services which will be higher than that of regular trains.
Provided with bio-toilets for zero discharge of effluents, Antyodaya coaches will have toilet occupation indication lights provided at each end near the doorway with better visibility from compartments, a first in general class.
Besides, all coaches will be inter-linked and there will be cushioned seats with aluminium composite panels for enhanced aesthetic interior look of the coaches. Along with cushioned luggage racks with coat hooks, the train will also have LED lights and enhanced capacity dustbins.
Railways will also soon launch Tejas Express and Uadaya Express as promised in the budget.
(With inputs from PTI)