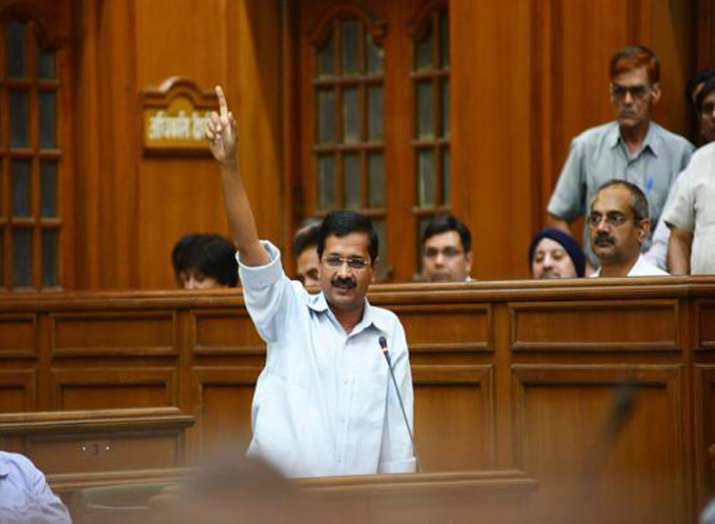 Welcoming the Supreme Court's big judgment over tussle between the Delhi government and Lieutenant Governor, CM Arvind Kejriwal  described the top court's verdict as a big win for the people of Delhi.
"A big victory for the people of Delhi...a big victory for democracy," Kejriwal tweeted moments after the Supreme Court made it clear that the LG can't act arbitrarily and that there is no place for 'anarchy' in Delhi's administration.
"There is no room for absolutism and there is no room for anarchism also," the court ruled.  
Delhi govt vs LG tussle judgment: Top things Supreme Court said
In its 231-page judgment, the Supreme Court held that Lieutenant Governor Anil Baijal does not have independent decision making powers, and is bound to act on the aid and advice of the Council of Ministers.
The judgment pronounced in the court by Chief Justice Dipak Misra, who was heading the Constitution bench, also held that the LG cannot act as an 'obstructionist'.
Who said what:
BJP MP Subramanian Swamy: Yes what SC said is correct that LG must respect Delhi cabinet decisions, but if any anti national security or anti-constitutional decision is taken,which they are capable of taking, as they are Naxalite type people, then LG can oppose
Former AAP leader Kapil Mishra: Kejriwal ji, Supreme Court ne AAP se kaha hai iodex maliye kaam pe chaliye (Mr Kejriwal, the SC has told AAP to rub some balm and get back to work)
केजरीवाल जी,
सुप्रीम कोर्ट ने AAP से कहा हैं

आयोडेक्स मलिए
काम पर चलिए https://t.co/mw0ytu3USx

— Kapil Mishra (@KapilMishra_IND) July 4, 2018
Deputy CM Manish Sisodia: It is a landmark judgment by Supreme Court. Now Delhi Govt will not have to send their files to LG for approval, now work will not be stalled. I thank the SC, it is a big win for democracy.
Former Attorney General of India Soli Sorabjee: It is a good verdict by Supreme Court. LG and Delhi Government have to work harmoniously, can't always have confrontation. Daily squabbles are not good for democracy. I welcome the decision.
Centre's legal representative Additional Solicitor General (ASG) Maninder Singh: After today's judgment, if LG finds that Delhi Government's decision is not in favour of the people of Delhi then he can take that matter to the President of India, whose decision will be final. But mundane and trivial issues will not be taken to the President.
AAP lawyer and MLA Somnath Bharti: The SC verdict will now allow the stuck projects in Delhi to start again. We will continue to work for the full statehood demand for Delhi. We will continue to create an atmosphere for it as it is a demand of the people not the government.
Congress leader JP Aggarwal: The tussle in Delhi is political and not Constitutional. The SC has just reiterated the pre-existing law today. Both AAP and BJP want to keep causing trouble in Delhi, they are not thinking about people.
The decision is a major victory for Chief Minister Arvind Kejriwal's AAP government, which has been in a constant tug of war with the LG over the power wielded by the two branches of the executive. 
WATCH: