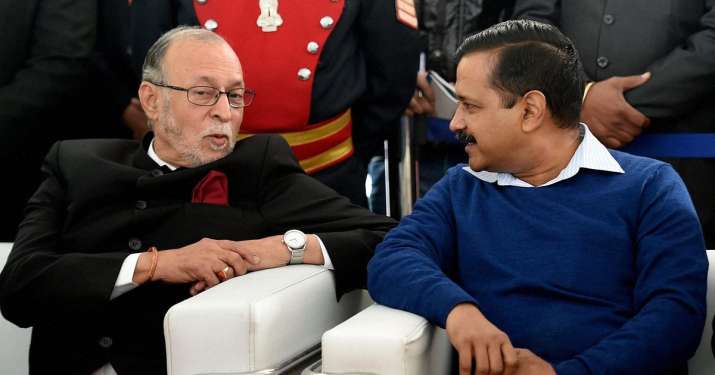 The long running turf war between Delhi's Aam Aadmi Party (AAP) government and the Lieutenant Governor witnessed a sought of closure on Wednesday (July 4) as the Supreme Court made it clear that LG will have to approve of decisions taken by the Arvind Kejriwal government. Stating that there is no place for 'anarchy' in Delhi, the apex court ruled out the possibility of granting full statehood and said the L-G should not be 'obstructionist'.
The Supreme Court said that L-G can't interfere into every decision of the elected government. 
The Supreme Court said that except for three issues - land, police, law and order - the Delhi government has the power to legislate and govern on other issues.
Top things that Supreme Court said:
# Delhi's L-G has no independent decision-making power, cannot act as an obstructionist.
# L-G has not been entrusted with independent powers.
# All decisions of council of ministers must be communicated to L-G but that doesn't mean concurrence of LG is required. 
# L-G should not act in a mechanical manner and stall decisions of council of ministers.
# L-G can refer issues on difference of opinion to President only in exceptional matters and not as general rule.
# L-G is bound to act on the aid and advice of the council of ministers.
# No independent authority vested with Delhi L-G to take independent decisions.
# L-G must bear in mind that it is not he but the Council of Ministers which will take decisions: Justice Chandrachud. 
Moments after the Supreme Court's verdict, Delhi CM Arvind Kejriwal hailed the decision describing it as a victory of people of Delhi. 
"A big victory for the people of Delhi...a big victory for democracy," Kejriwal tweeted.
A big victory for the people of Delhi...a big victory for democracy...

— Arvind Kejriwal (@ArvindKejriwal) July 4, 2018
Speaking to reporters, deputy CM Manish Sisodia echoed Kejriwal's views and 'thanked the top court on behalf of people of Delhi'. Sisodia said the Supreme Court's ruling has established the people have the ultimate right to rule. 
"It is a landmark judgment by Supreme Court. Now Delhi government will not have to send their files to L-G for approval, now work will not be stalled. I thank the Supreme Court, it is a big win for democracy," Sisodia said.
The Delhi BJP welcomed the apex court's judgment, saying the ruling party should now shun its "political demand" of full statehood to the city. 
BJP MLA and Leader of Opposition in the Delhi Assembly Vijender Gupta said the court's verdict has directed the AAP government to follow the law and it is expected that they will do so. 
"We welcome the SC verdict. The Delhi government should have been following the law even without the order of the court. We hope, they will do so after the judgment," he said. 
WATCH: Supreme Court's big verdict over Delhi AAP govt-LG tussle