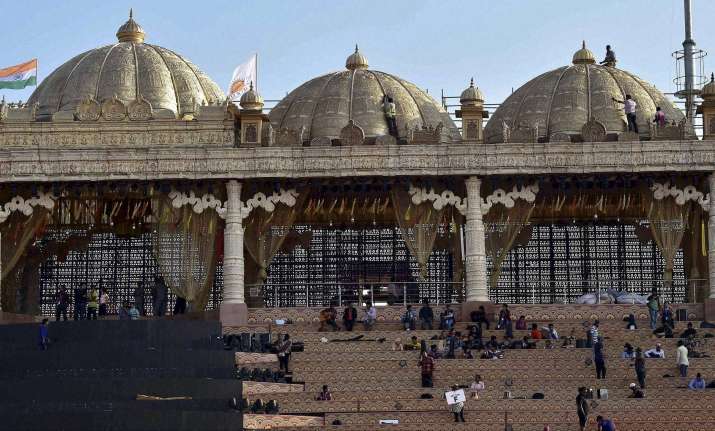 New Delhi: The National NGT Tribunal (NGT) today asked the spiritual guru Sri Sri Ravi Shankar's Art of Living (AOL) to pay Rs 25 lakh by evening and granted 3 weeks' time to pay remaining Rs 4.75 crore of the fine.
"If AOL fails to pay Rs 25 lakh today, then grant of Rs 2.5 crore by government will be attached," the NGT said, adding that the 'amount is not penalty or fine but an environmental compensation'.
The NGT also objected to Sri Sri Ravi Shankar's jail remark saying 'a person of that stature makes such statements, it hits rule of law'. The NGT's observation came following Sri Sri's remark that he will prefer to go to jail instead of paying Rs 5 cr fine because he has not committed any mistake.
The Art of Living (AOL) had moved an application before the NGT seeking at least 4 weeks' time to deposit the fine and to comply with all tribunal directions.
The AOL, in the application, said that it is a charitable organisation and it will not be able to deposit Rs 5 crore fine by 5 pm imposed on it by the tribunal for organising the World Culture Festival on Yamuna bank. The AOL said that it will be difficult for it to generate Rs 5 crores in a short period.
The NGT had yesterday asked AOL to deposit the fine before Friday 5pm or it will pass an order banning the event. The NGT's observation came after Sri Sri said that the AOL will not pay the fine as 'hehas not committed any mistake'.
Meanwhile, AOL counsel Akshama Nath has hinted that the foundation has soften its stance after initially saying that it will not pay the fine. "Things are changing every moment. We are focusing on things to make the event successful," Nath said when asked if the foundation was willing to pay the amount.
The 3-day long event is slated to kick start this evening where Prime Minister Narendra Modi will also be present to witness shehnai-like musical instrument played in south Indian temples and Vedic chants by a thousand Sanskrit Pandits.
The NGT had on Wednesday imposed an initial fine of Rs 5 crore on AOL and said it should be held liable for restoration of 'damage caused to environment, ecology, biodiversity and aquatic life of the river'. In its order, the NGT had also imposed a fine of Rs 5 lakh on Delhi Development Authority (DDA) and Rs 1 lakh on the Delhi Pollution Control Committee (DPCC) for failing to discharge their duties.
On the other hand, the volunteers, workers and performers expressed both hope and uncertainty as they slogged to make the three-day event a success. A large number of AOL workers and security personnel were on the job struggling to put up a good show for the three-day extravaganza that begins this evening.
Watch Video: