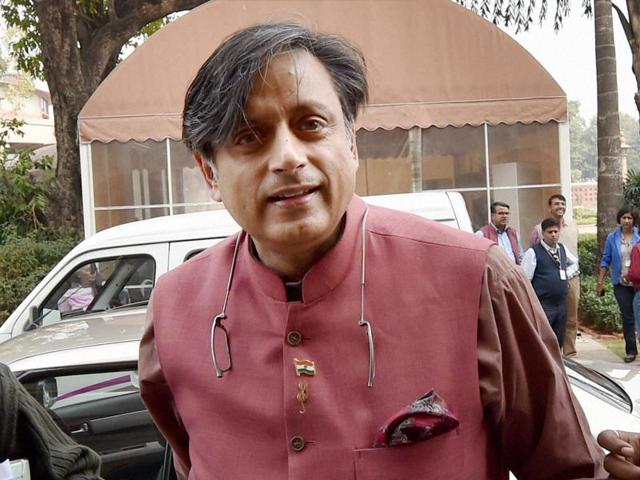 Facing intense backlash over his 'Hindu Pakistan' remark, Congress leader Shashi Tharoor on Friday refused to tender an apology and instead offered a 'musical' response over the issue. 
Tharoor, who represents Thiruvananthapuram in the Lok Sabha, posted a YouTube link of Kishore Kumar's 'Kuch to log kahengey' song from the 1971 hit Bollywood movie 'Amar Prem' on his Twitter page. Tharoor's tweet was accompanied with hashtag - HinduPakistan.
Tharoor's tweet came hours after Congress distanced itself from Tharoor's controversial statement and advised all party leaders to choose their words carefully. 
कुछ तो लोग कहेंगे, लोगों का काम है कहना
छोड़ो बेकार की बातों में कहीं बीत ना जाए रैना https://t.co/QtrDqZW9kn#HinduPakistan

— Shashi Tharoor (@ShashiTharoor) July 12, 2018
Congress' communication in-charge Randeep Surjewala, in a series of tweets, said, "India's values and fundamentals are an unequivocal guarantee of our civilisational role & set us apart from the divisive idea of Pakistan." 
"All Congress leaders must realise this historic responsibility bestowed upon us while choosing words and phraseology to reject BJP's hatred," he said. 
Tharoor had kicked up a huge row with his remarks that if voted to power again, the BJP will rewrite the Constitution and pave the way for creation of a "Hindu Pakistan".
 "If they (BJP) win a repeat in the Lok Sabha our democratic constitution as we understand it will not survive as they will have all the elements they need to tear apart the constitution of India and write a new one. That new one will be the one which will enshrine principles of Hindu Rashtra, that will remove equality for minorities, that'll create a Hindu Pakistan," Tharoor had said during an event in Thiruvananthapuram. 
Watch: War of words erupts between BJP, Congress over Shashi Tharoor's 'Hindu Pakistan' remark