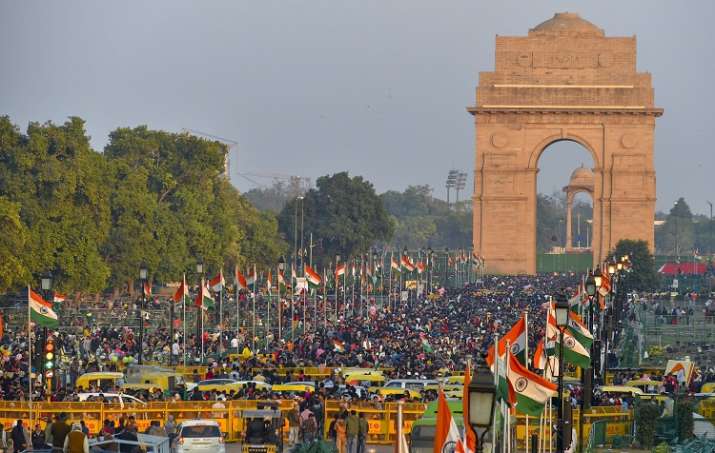 Celebrations for the 70th Republic Day began on Saturday when the ceremonial parade rolled down the majestic Rajpath here with South African President Cyril Ramaphosa as the chief guest, amid unprecedented security deployment in the city. Prime Minister Narendra Modi paid his tributes to the martyrs by laying a wreath at Amar Jawan Jyoti. Prime Minister Narendra Modi also greeted the people on the country's 70th Republic Day.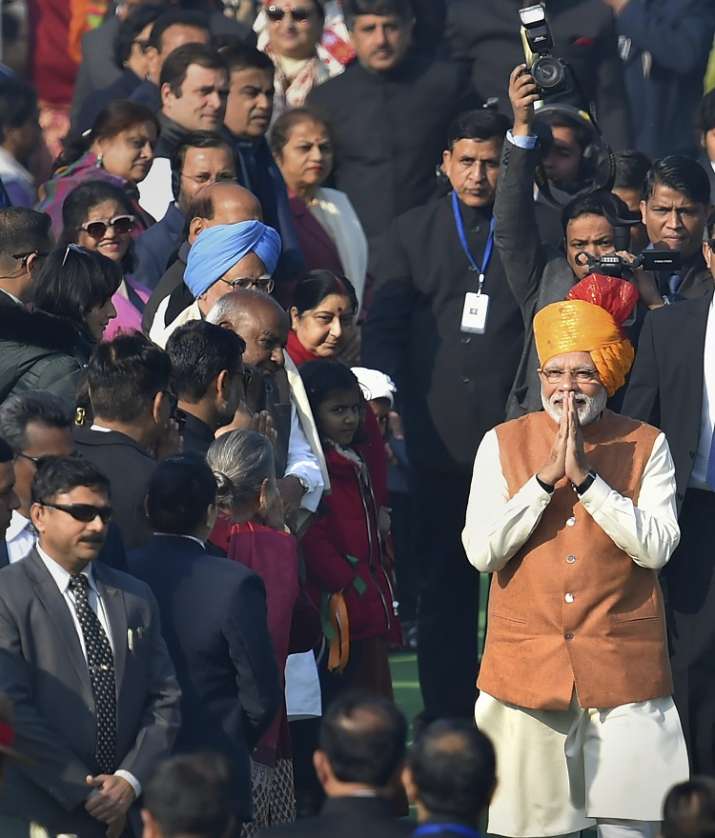 Here are the ten major highlights of the 70th Republic Day:
# It was a dazzling display of 'Nari Shakti' during the Republic Day parade as an all-women contingent of the Assam Rifles created history by marching down the Rajpath while a woman officer performed a bike stunt as part of the daredevils for the first time.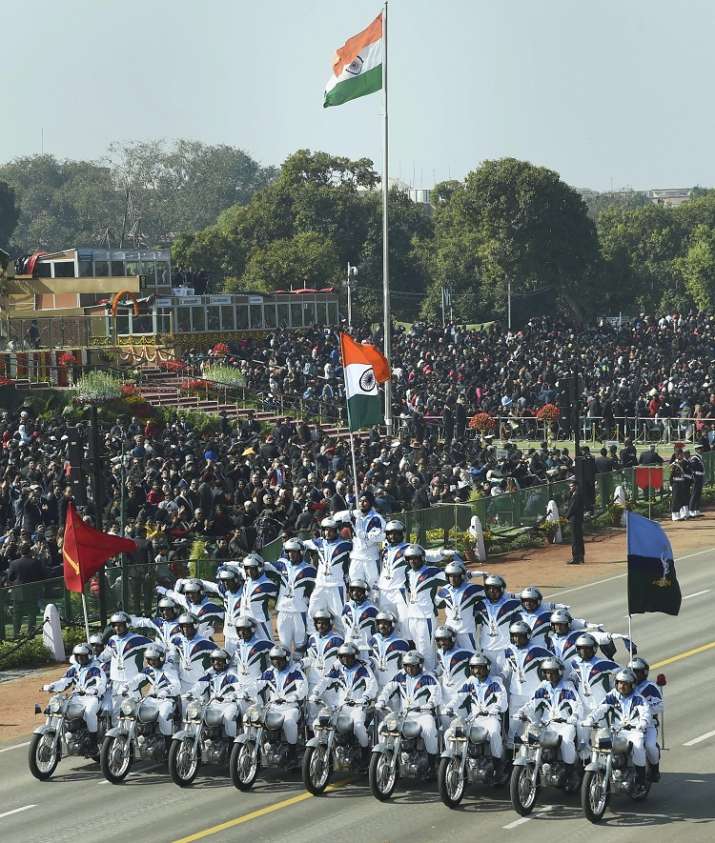 # Artillery gun system the M777 Ultra Light Howitzers, procured from the US, and the K-9 Vajra were displayed for the first time during the 70th Republic Day parade on Rajpath, showcasing India's military prowess.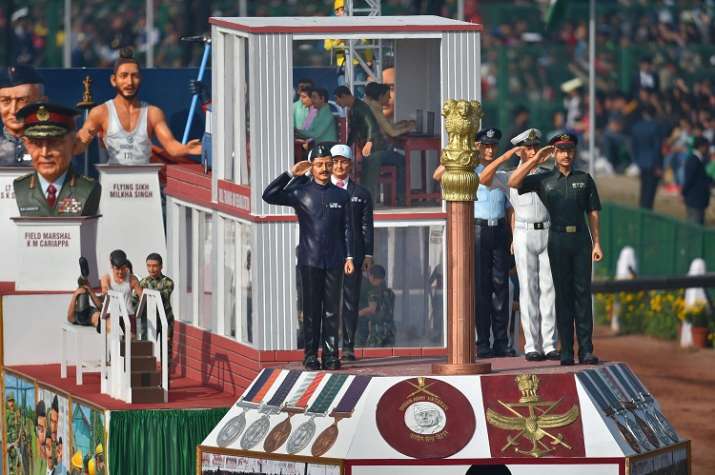 # In a first for the Republic Day parade, the IAF on Saturday flew an An-32 aircraft in 'vic' formation, whose lead plane used a mix of traditional and biofuel during the grand event.
Watch Video: 
# Lance Naik Nazir Ahmad Wani, a militant-turned-soldier who laid down his life fighting a group of terrorists in Shopian in Kashmir in November, was awarded the Ashoka Chakra by President Ram Nath Kovind.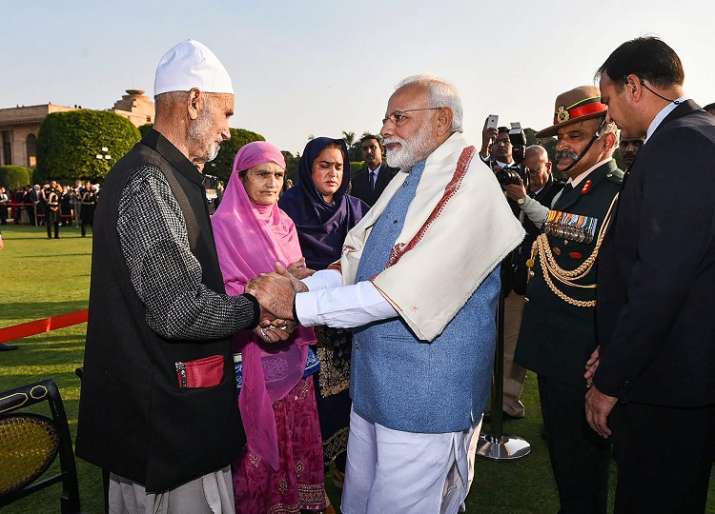 # Various facets of Mahatma Gandhi's life journey were displayed by the 22 tableaux that rolled down the Rajpath during the 70th Republic Day parade to mark the 150th birth anniversary of the father of the nation.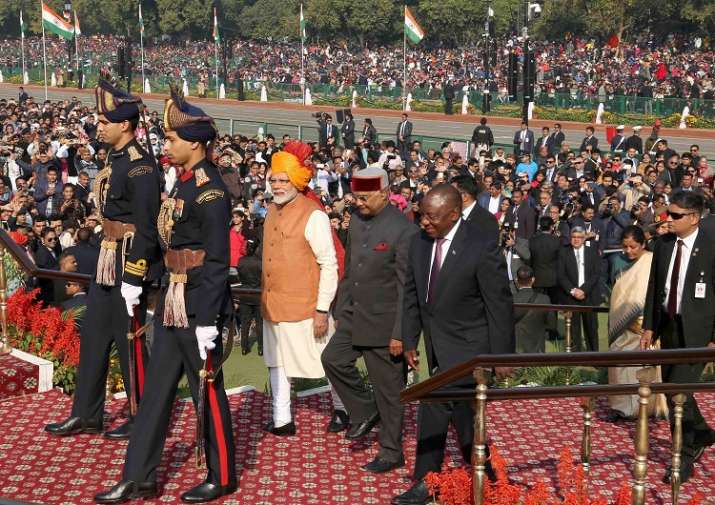 # A major highlight of the parade was participation of four Indian National Army (INA) veterans — Parmanand, Lalti Ram, Hira Singh and Bhagmal, all aged over 90 years, for the first time.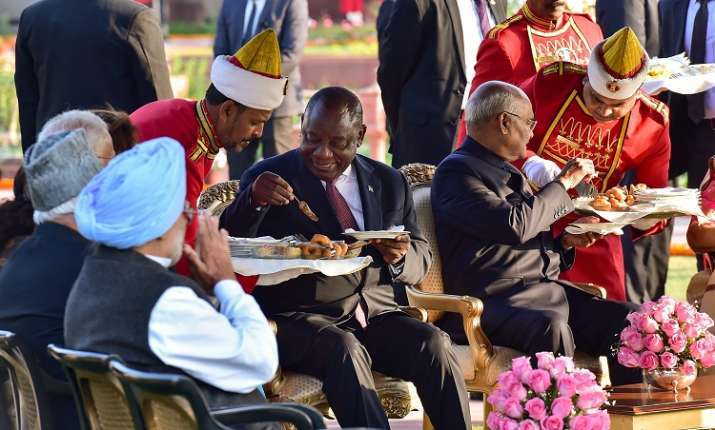 #The grand finale of the parade was a spectacular flypast by the IAF. The fly-past commenced with the 'Rudra' formation comprising three advanced light helicopters in 'Vic' formation, and its culmination was a lone Su-30 MKI flying at a speed of 900 km/hr with a 'Vertical Charlie' manoeuvre over the saluting dais.
# Twenty six children, including six girls and 20 boys, were awarded Pradhan Mantri Rashtriya Bal Puruskar for their "exceptional achievement" also graced the occasion.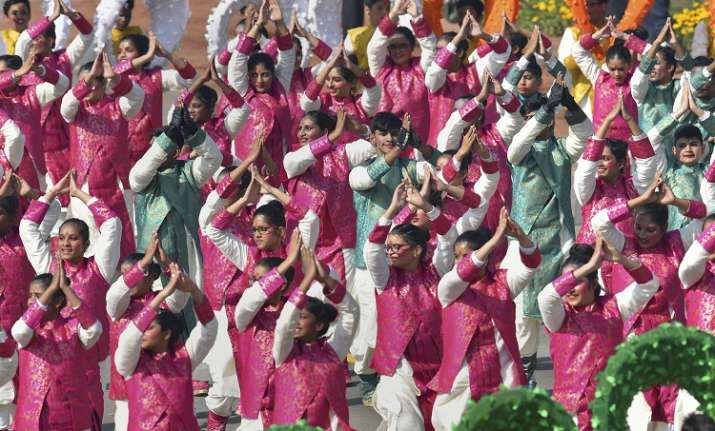 # Union Minister Nitin Gadkari, who had been in the news for seemingly calling on the BJP's top brass to own responsibility for the losses in the recent Assembly polls, was seen chatting with Congress President Rahul Gandhi during the 70th Republic Day celebrations.
# The theme of the parade was the 150th birthday of Mahatma Gandhi.
Watch Full Video: 
(With Agency Inputs)